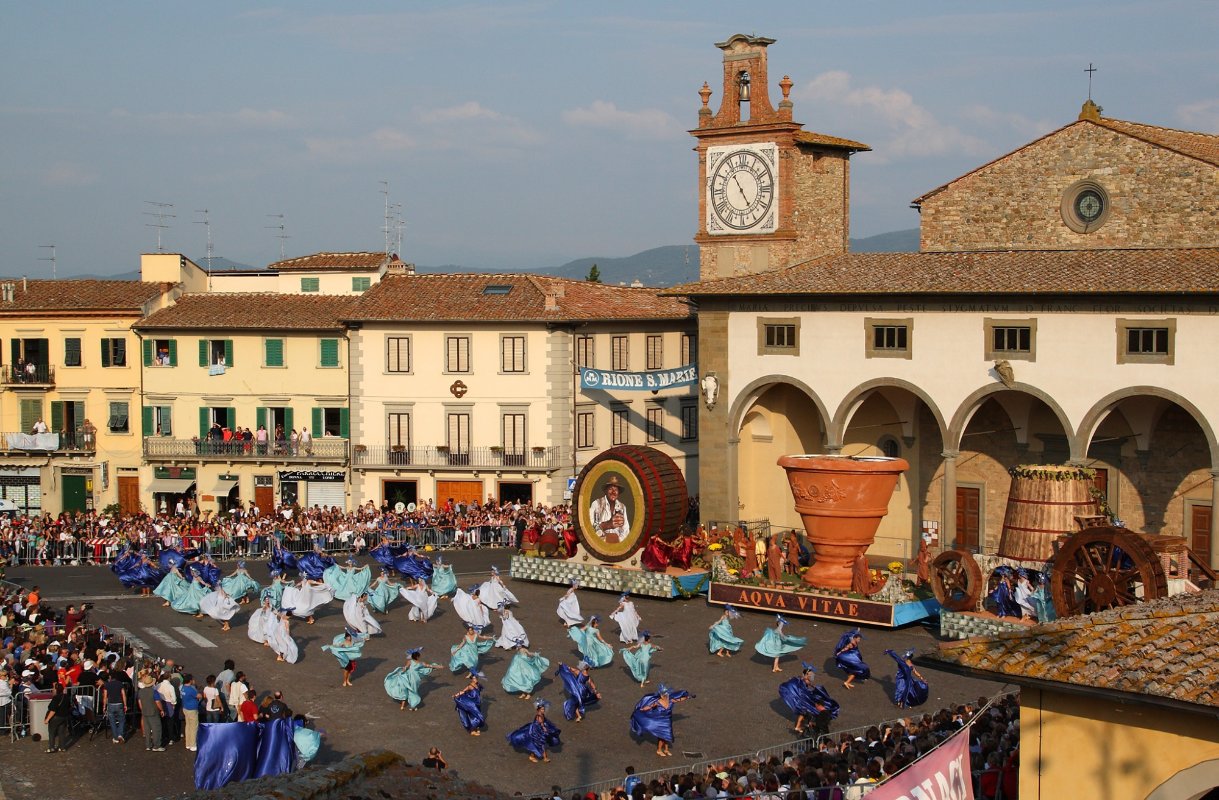 Photo ©Di Leonardo / WikiCommons
Since 1928, official date of birth, the Grape Festival in Impruneta is held at the end of September in Piazza Buondelmonti. Conceived in the midst of the economic crisis with the intention of promoting grape consumption, over the years the Festival has enjoyed incredible success, attracting thousands of people.

At first a challenge among Farms and a parade of simple decorated carts, from 1932 the Grape Festival is brought to life by the four Rioni - Rione delle Sante Marie, Rione del Sant'Antonio, Rione delle Fornaci, Rione del Pallò – engaged in a challenge of increasingly complex floats, ever more numerous extras (up to 300 for each Rione), increasingly spectacular costumes and choreography.

The true heart of the Grape Festival is life in the rione which takes place throughout the month of September, with hundreds of people engaged in daily work between the construction site and tailoring. A highlight of this preparatory stage are the cene di Rione (dinners in the Rione), born as a small form of funding, today an event that attracts hundreds of people, from Impruneta and beyond.
Impruneta
The land of terracotta
Inhabited since Etruscan and Roman times, Impruneta is a town on the outskirts of Florence. It's immersed in the countryside that can still be described in the same way that Giovan Battista Casotti did in 1714: "Impruneta is a community of twelve small villages, located a very short distance from each other, or rather, gathered almost in a heap on some hills which arise in that part of the ...
Morekeyboard_backspace