Main courses
Stuffed capon
A classic Tuscan dish served for Christmas lunch. Find out here Paolo's recipe.
1 boned capon
200 gr. of veal mince
200 gr. of ground pork
200 gr. ground chicken breast (preferably capon)
1 slice (thick) pickled tongue
1 slice (thick) ham
100gr. unsalted pistachios
1 slice of bread soaked in milk
Grated Parmigiano
2-3 eggs (beaten)
Garlic
Thyme, sage and rosemary
The peel of 1 lemon
1 glass of Vin santo
Extra virgin olive oil, salt, pepper
Flame the capon, wash and dry inside
In a bowl, mix: the minced meat, parmigiano cheese, beaten eggs, bread crumbs well drained, ham and tongue cut into cubes, thyme, unsalted pistachio, lemon peel, salt and pepper
Add a glass of vin santo
Stuff the capon with the mixture and sew it with wire
Tie it well with a string and brown it in a pan with olive oil
Place it in a large baking tray with two cloves of garlic, sage and rosemary and cook at 180 degrees for about 2 hours
Leave to rest before carving
You might also be interested in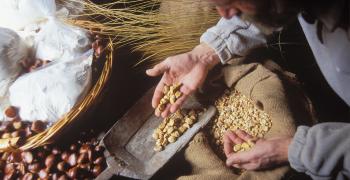 Learn more
Food and Wine
Olive oil, wine, truffle and other culinary delights make up the excellence of Tuscan gastronomy.
continue...