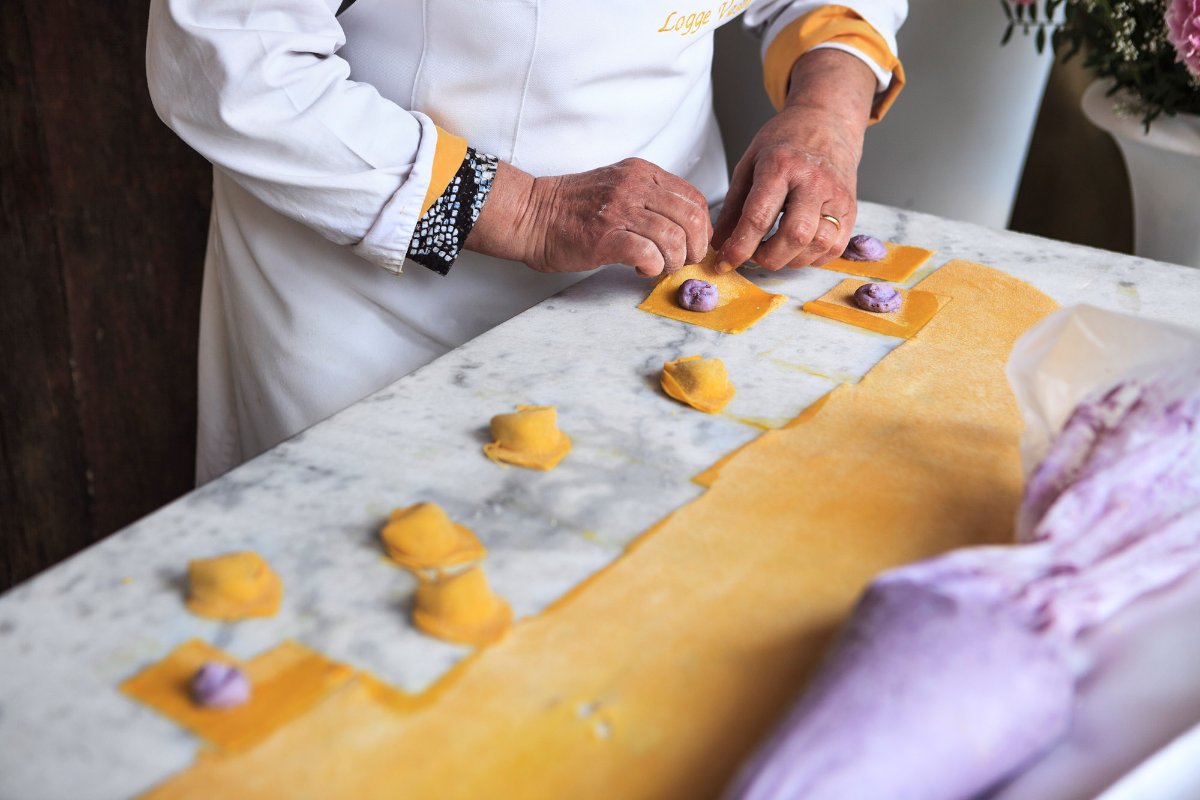 ??????
Pontormo's Renaissance chicken and veal stew
Jacopo Carducci
, usually known as Pontormo, was a Tuscan Mannerist painter and portraitist. He is considered without doubt one the most original and criticized artists in the Italian Cinquecento. He was a painter open to stylistic variety and a renewal of the traditional approach.
Pontormo
was famous for his portraits of the Medici and of Florentine nobles, but what few people know is that he was also an eccentric
artist in the kitchen.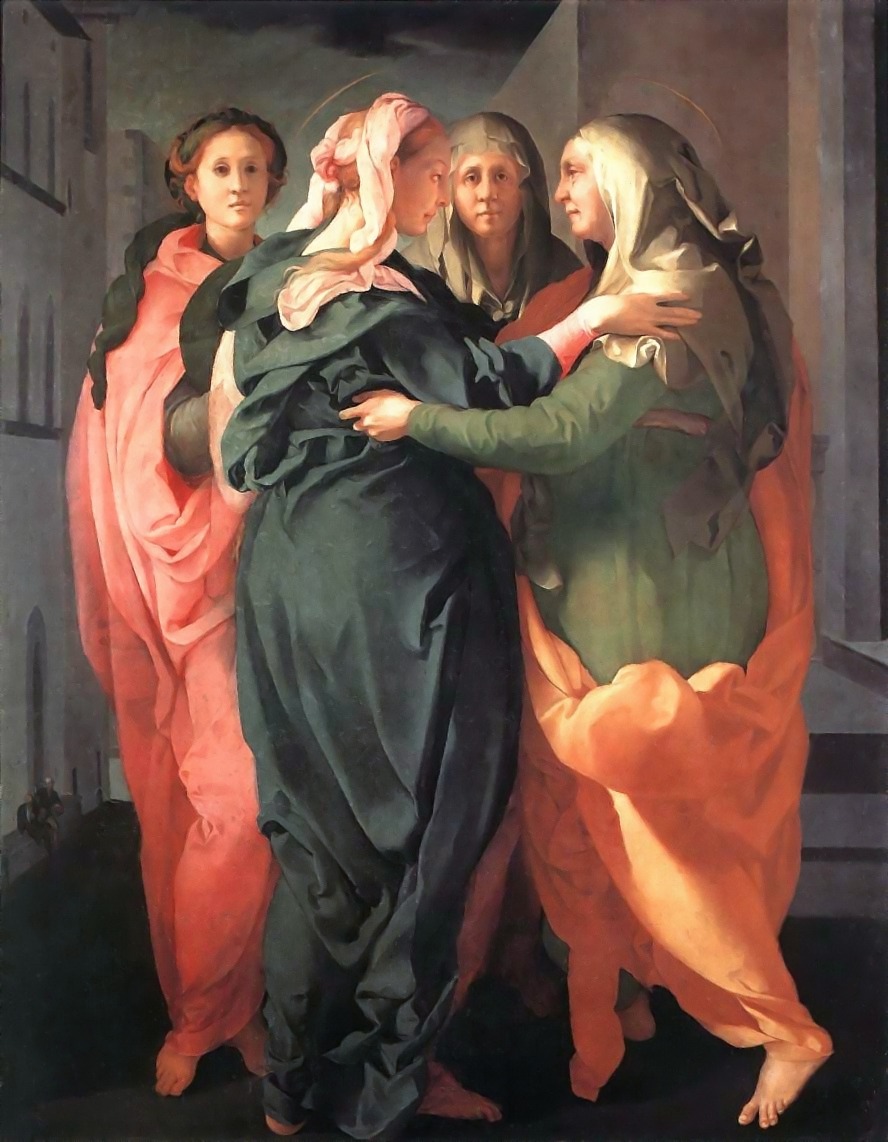 Photo credits: Flavia Cori, Tuscany Social Media Team
Jacopo
lived always alone. He was not a big eater, but
he was certainly a gourmet
. From 1554 to 1556, he wrote a diary in which he noted down primarily
what he prepared to eat
or what he had tasted elsewhere. Many of the dishes he wrote about still belong to traditional Florentine cuisine: artichoke pie (tortino di carciofi), pea soup and rosemary bread (pan di ramerino).
His diary starts like this:
On the 11th of March 1554, on Sunday morning, I ate lunch with Bronzino—chicken and veal—and felt well"

Piazza San Pier maggiore, Florence
From March 8 to July 20, 2014,
Florence is hosting the art exhibition
Pontormo and Rosso Fiorentino, Diverging Paths of Mannerism
. In conjunction with the exhibition, chef Giuseppe Alessi offers a fancy menu inspired by the Cinquecento's cuisine at the restaurant Mastro Ciliegia, in the center of Florence.
Now imagine being at Pontormo's house having lunch with Bronzino, another outstanding Italian Mannerism artist.
For Tuscanycious
, Alessi has prepared a great photo set and has written down a three-page recipe that I've copied, partially, here. As you can see, the
Renaissance cuisine
has intense flavours due to the use of many ingredients. Each dish is a synthesis of multiple operations and cooking procedures. It seems like a very complicated style of cooking, but actually it's just
full of parallel yet easy steps.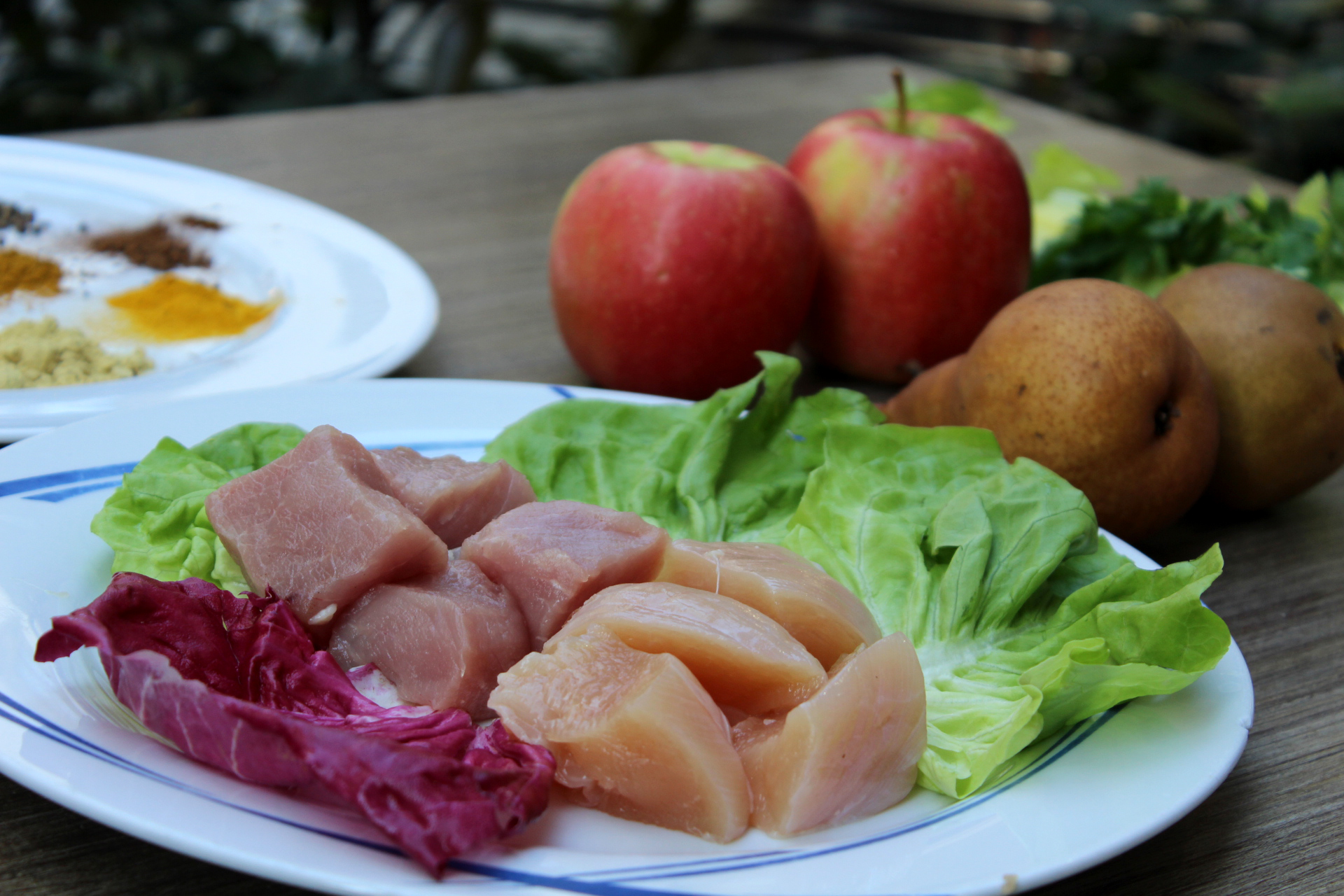 Chicken and veal stew or "potaccio " with stewed apples and pears
Stewed Pears (for the veal)
Ingredients: -Slices of Kaiser pears, red wine and spices In a pot, add some red wine, Marsala and a dash of vinegar. Then add some cloves, cinnamon, orange peel, coriander seeds, black peppercorns, mustard powder, cucurma and boil everything. Blend all the ingredients, strain them and put back the liquid into the pot. Simmer with some sugar cane, berries syrup and a pinch of salt. Sprinkle the Kaiser pear slices with this mixture and let marinate for 24 hours.
Stewed Apples (for the chicken)
Ingredients: -Slices of Stayman apples, white wine and spices In a pot add white wine, white vinegar, cinnamon, fennel seeds and lemon peel. Blend all the ingredients, strain them and put back the liquid into the pot. Simmer with powdered ginger and licorice, white sugar and a pinch of salt. Sprinkle the apple slices with this syrup and let marinate for 24 hours.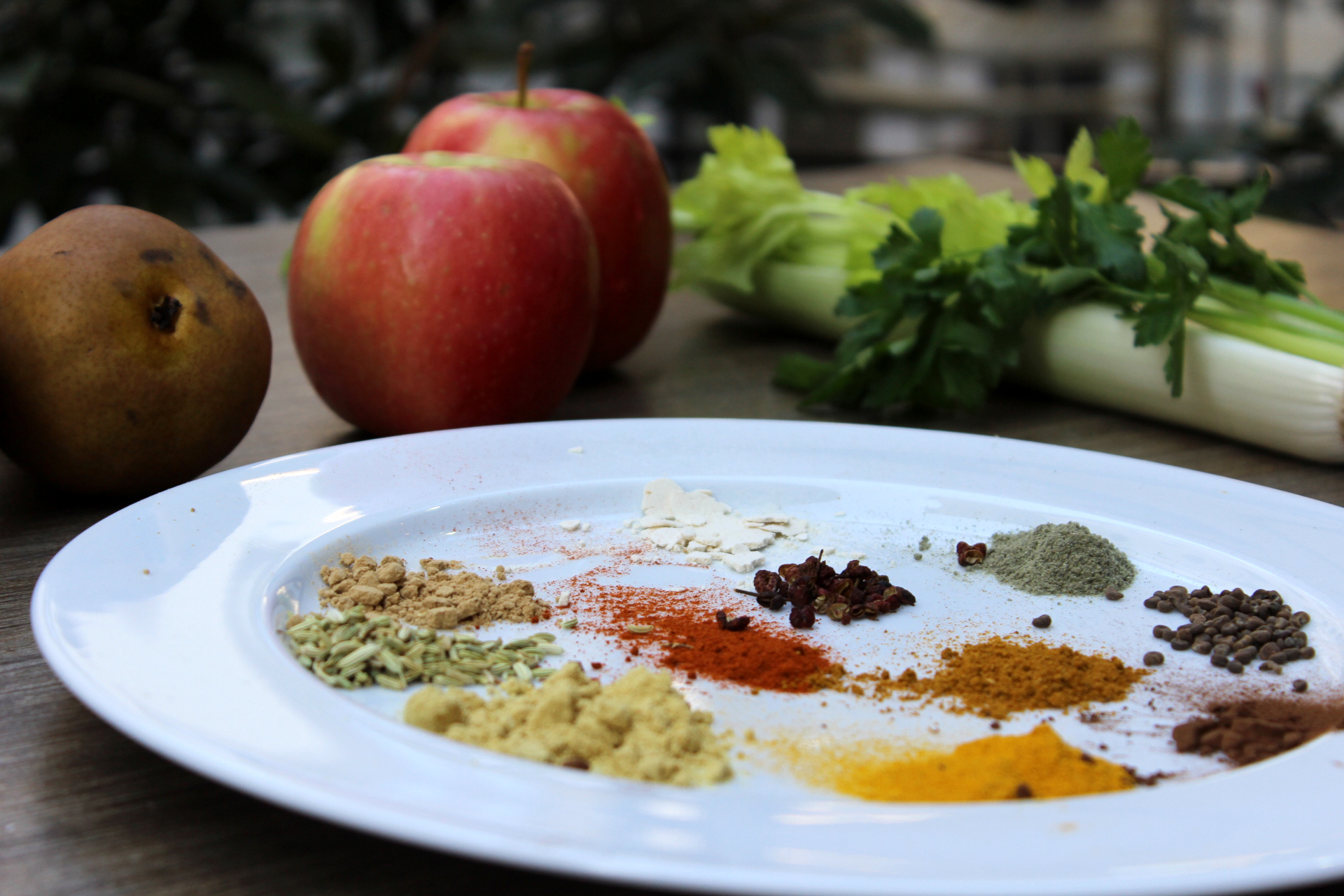 Cooking the meat
Ingredients: -Veal and chicken, cut into cubes -Salt and wheat flour Cover in flour the veal and cook it in hot olive oil. Then take the chicken cubes, cover them in flour and cook in the olive oil for few minutes.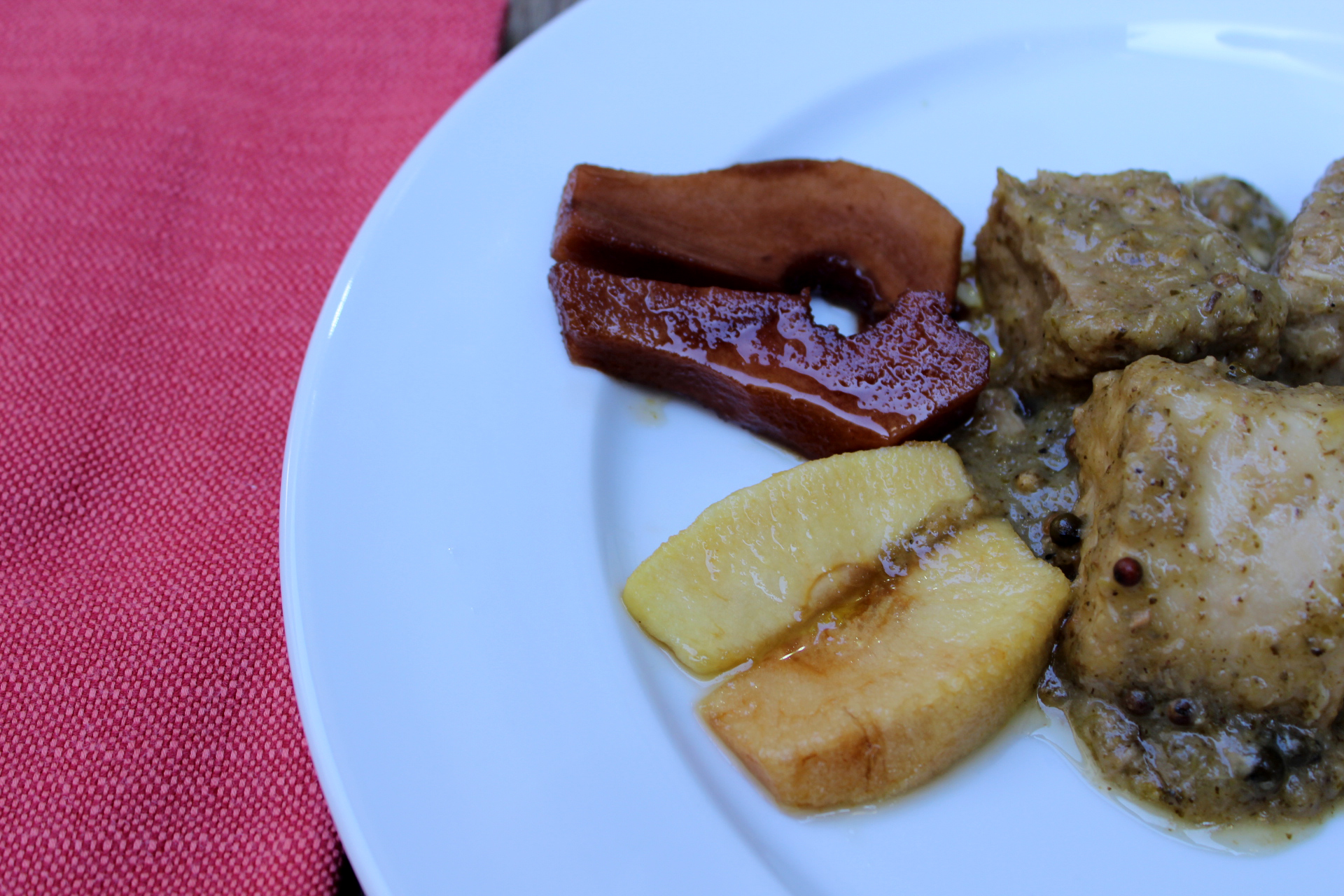 Stewed vegetables
Ingredients: -Leek, onion, celery and lemon peel, finely chopped -A smoothie of lemon juice, white wine, brandy, parsley, garlic, lemon zest, dried marjoram and thyme, fennel seeds and sage -White and black pepper -Dehydrated vegetable and meat broth Take the casserole used for cooking the meat, clean it and fry the chopped vegetables in some extra virgin olive oil. Add the pepper, the smoothie and the dehydrated vegetable and meat broth, and cook everything slowly until the vegetables are well cooked.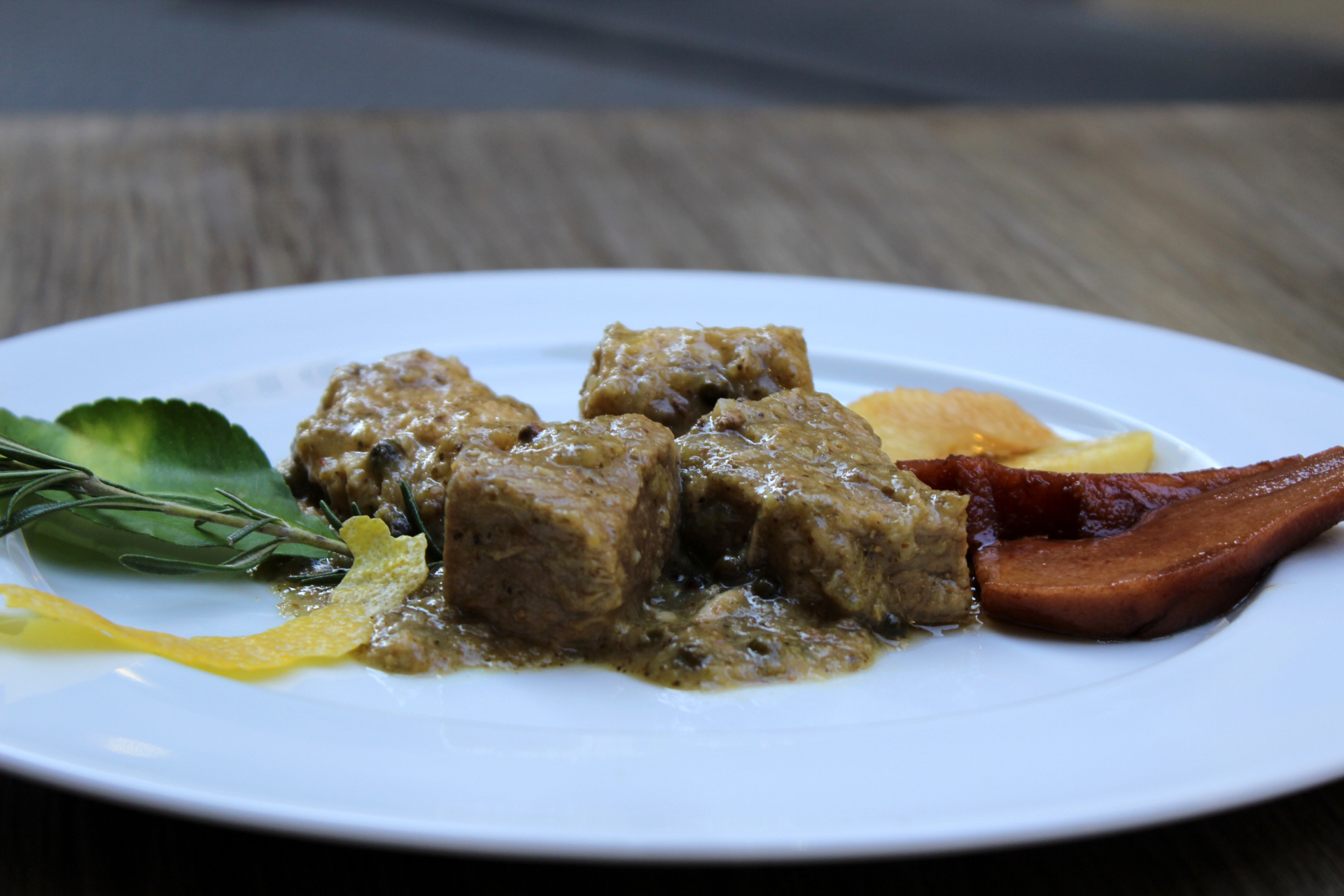 Assembling the ingredients Blend a Kaiser pear, zest of 1 lemon, 100g candied citrus peel, 1 tablespoon mustard powder, 2-3 tablespoons of honey and some previously stewed vegetables. Add the veal to the casserole with the vegetables and cook until it becomes tender. Then add the chicken meat (which is tender and usually cook quickly), the blended mixture and a handful of ground Chinese pepper. Finally add the marinated pears and apples and cook everything for 2-3 minutes.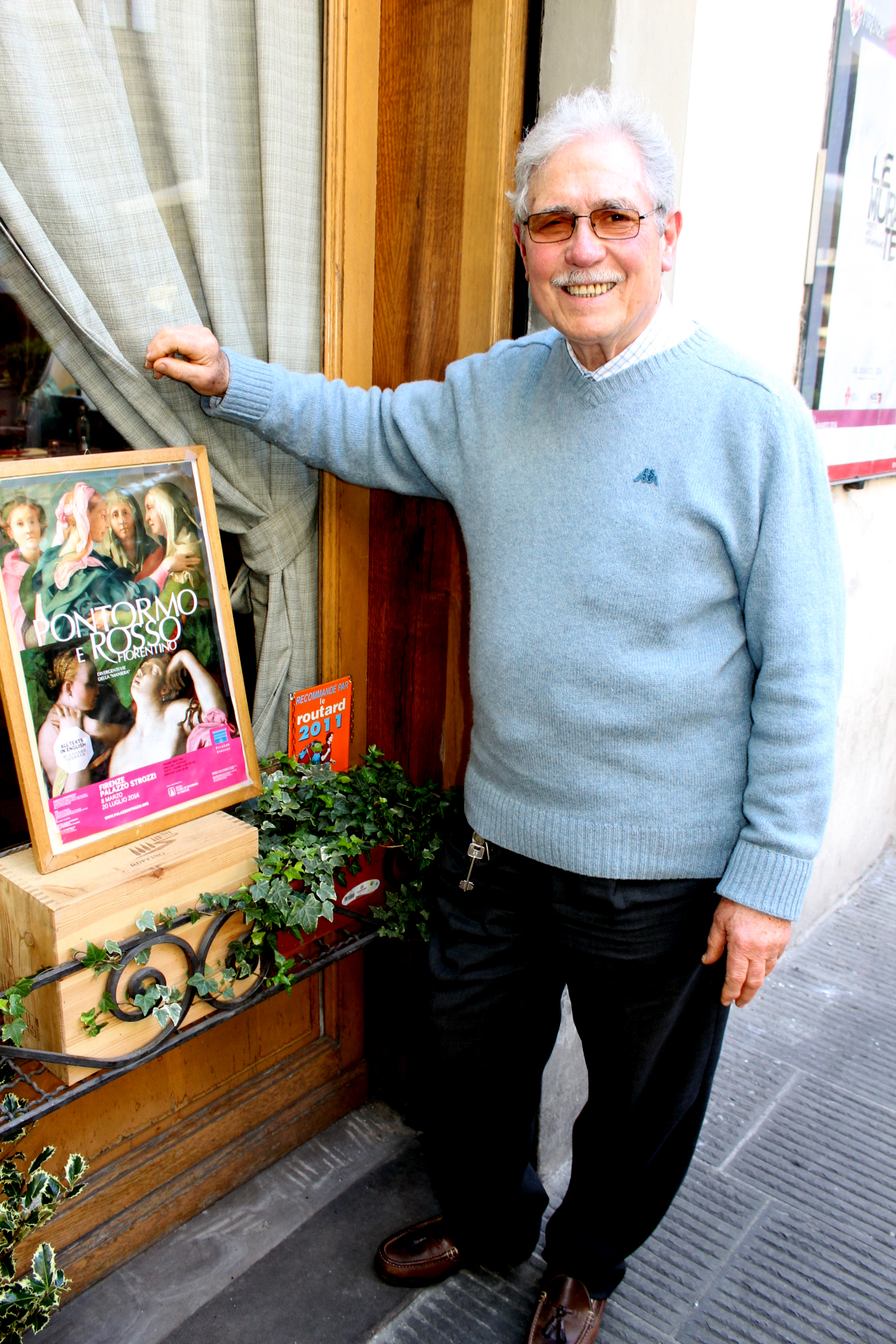 Did you like it? If you want to taste dishes like this one, visit the restaurant
Mastro Ciliegia in Florence for a different and renaissance food stop until July 20, 2014.
Thanks Giuseppe!
Diverging Paths of Mannerism...at table
Vetrina Toscana
March 8 – July 20, 2014 Mastro Ciliegia restaurant, Piazza San Pier maggiore, 4/5r - 50122 -Firenze (FI) Tel +39 055 2480444
You might also be interested in