First courses
Pasta with herbs
A delicious pasta dish seasoned with Tuscan lard and fresh herbs from the garden.
350 g of 'penne' pasta
150 g of lard
2 carrots
Half an onion
A handful of marjoram
Basil, oregano, parsley
2 tablespoons brandy
40 g of grated parmesan cheese
3 tablespoons extra-virgin olive oil
Salt and pepper to taste
Wash and chop the herbs and place them in a bowl with oil. Clean and wash the carrots and onion, cutting them into thin slices. Chop the lard into small cubes. In a large sauce pan, sauté the oil with the herbs, lard, onion and carrots. Stir slowly, then add the glass of brandy and wait for it evaporate. Meanwhile, cook the pasta in abundant salty water. Once al dente, remove and drain. Add it to the pan and toss for a few minutes. Top with grated Parmesan and serve.
You might also be interested in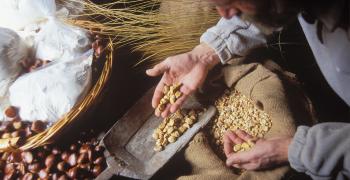 Learn more
Food and Wine
Olive oil, wine, truffle and other culinary delights make up the excellence of Tuscan gastronomy.
continue...