Desserts
Chocolate and fig Panforte
Panforte (comparable to Gingerbread) is a traditional Christmas dessert of Siena, spicy and very nutritious, circular in shape, low and compact. Traditional panforte is a made with honey, nuts, almonds, hazelnuts, spices, candied fruit and it's flavoured with cloves, cinnamon, pepper, nutmeg and coriander. Joana, a culinary enthusiast from Bulgaria, has sent her Panforte recipe with figs and chocolate. Thanks Joana!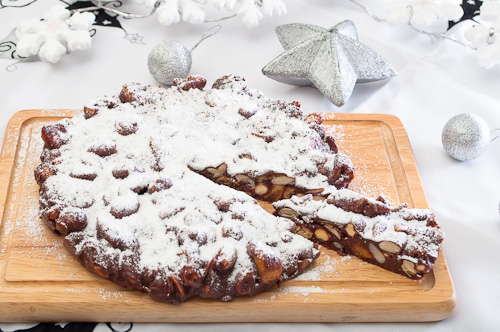 80g flour
1 tsp ground cinnamon
1/2 tsp ground star anise
1 tsp vanilla extract
200g figs, chopped
100g hazelnuts
150g almonds
100g dark chocolate, coarsely chopped
1 orange zest
150g caster sugar
150g honey
50g water
icing sugar to dust
Preheat the oven to 150ºC . Grease and line a 20cm round cake tin.
Sift the flour, cinnamon and star anise. Add the figs, nuts, chocolate, orange zest and vanilla extract and mix to combine.
Place the sugar, honey and water in a saucepan and slowly bring to the boil over medium heat, stirring until the sugar dissolves. Bring to the boil and boil about 10-15 minutes, until the dough begins to thick.
Immediately pour the sugar mixture over the flour mixture and mix quickly with a wooden spoon until well combined.
Quickly spoon out the mixture into the greased tin and bake for 15 minutes.
Cool well before taking out of the pan.
Sprinkle generously with icing sugar.
Store in an airtight container.
You might also be interested in