Sentiero della Bonifica
Cycling from Chiusi to Arezzo along the Canale Maestro della Chiana waterway
The Sentiero della Bonifica beside the Canale Maestro della Chiana waterway runs between Arezzo and Chiusi through the valley that bears evidence of Etruscan civilization. The trail is approximately 60 kilometres long and affords shelter and signposting for slow travellers, whether on foot or by bike.
Perfect for an active family holiday, the old road used for the upkeep of the waterway and its locks was a route without any inclines, integrating well with the local public transport network.
This area changed, starting in the mid-14th century, with a widespread reclamation campaign, which began with the Medici family and continued under the Hapsburg-Lorraine rule, calling on eminent scientists and clever engineers like Leonardo da Vinci, Galileo Galilei and Vittorio Fossombroni, a technician from Arezzo whose name was given to the canal. Today's lock system, which dates to the grand ducal era, interwines with nature, history and local specialities, making it the perfect destination for people on cycling holidays, also due to the vicinity of two railway lines that facilitate your return to the point of departure.
The cycle and walking path of the Canale Maestro della Chiana also provides an opportunity to see places and meet locals who explain local produce, such as wine, oil and fruit. Along the way, discover wineries, squares, oil mills and craftspeople that tourists often don't a chance to get to know firsthand. This corner of Tuscany was once frequented by Etruscans, as seen in the Labyrinth of Porsenna, in Chiusi, the millennial walls and burial places such as those found near Cortona and Castiglion Fiorentino. The route is a sort of fast track to the heart of a popular valley that remains unknown to those who drive through it or travel through it by train.
You might also be interested in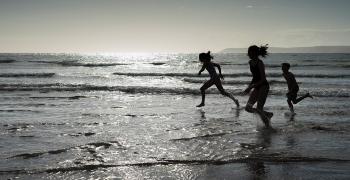 child_friendly
Learn more
Family
Travelling to your holiday destination is a fundamental part of your vacation and it's important for your children to avoid the boredom, have fun and
continue...