Exploring Barberino Tavarnelle
A stroll around the town's squares and neighbourhoods
The pretty village of Barberino Tavarnelle is situated between Florence and Siena, divided by a main road that ends in two gateways: Porta Senese Romana and Porta Fiorentina.
The town's architectural structure is still in a superb condition; only the Porta Fiorentina bears a modern reworking.
To admire the centre of Barberino Val d'Elsa, which stands along the ancient Via Francigena, we suggest a tour that winds its way through squares, streets and monuments.
Enter Barberino through the Porta Senese. Immediately you'll come across the Palazzo del Cardinale, whose doors bears the Barberini family coat of arms, the powerful family of Pope Urban VIII. A picturesque courtyard with a circular well and reception room is found inside the building.
Continue along the main street and on your right you'll see the beautiful Palazzo Pretorio, now the Propositura di S. Bartolomeo, whose Renaissance facade is adorned with noble coats of arms belonging to the Podestà up until the 15th century. On the frontage, you can view 35 shields sculpted in pietra serena from the most illustrious families in Florence.
On the opposite side of the piazza, there's a building with a loggia whose purpose was typical of municipal public loggia as a gathering, meeting and market place.
The Barberino Tavarnelle propositura underwent considerable changes over the centuries, being radically transformed in 1910 by the Florentine architect Castellucci, who also changed the direction of the façade from the main piazza over the valley.
An interesting relic of the old church is the sculpted cross enclosed in a roundel on the external architrave of the main door. Inside, you can admire some fragments of a fresco dating to the 14th-15th century, a bronze bust of Beato Davanzato and his remains.
The Spedale dei Pellegrini stands close to the Porta Fiorentina; today it's the headquarters of the tourist information office.
A statue was recently placed in the square in front of the town hall. Sculpted by the German artist Quirin Roth, it stands in memory of the 14th-century writer Francesco da Barberino, after whom the town is named.
You might also be interested in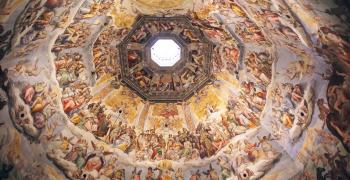 Learn more
Art and Culture
Tuscany is the cradle of the Renaissance and known all over the world for its immense artistic and cultural heritage.
continue...