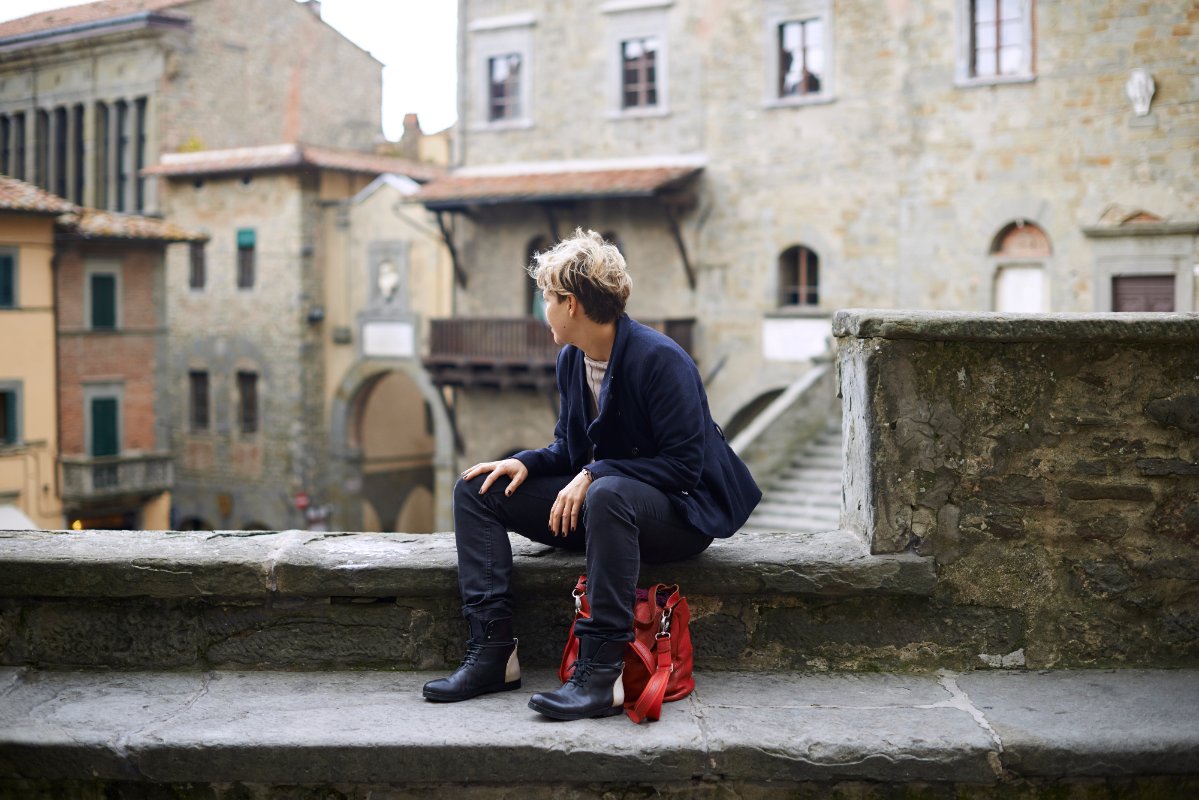 Mapplethorpe photos donated to Florence Museums
I recently read in
The Florentine
(the English-speaking newspaper of Florence) that the
Mapplethorpe Foundation of New York has donated three of the controversial photographer's works to Florence's museums
. The works donated are: Von Hackendahl (1985), a study of a male model posing as an ancient athlete; Derrick Cross (1985), a study of model Derrick Cross in a yoga pose; and a 1980 self-portrait. The first two were given to the Galleria dell'Accademia while the third enters the Uffizi Gallery's prestigious collection of some 1,700 self-portraits. I asked Jonathan Nelson, Coordinator of the Art History Department at Syracuse University in Florence and co-curator of the exhibit "
Robert Mapplethorpe: Perfection in Form
" a few questions about how he's reacting to this good news.
TuscanyArts: How does the donation of the artist's 1980 self-portrait to the Uffizi Gallery's collection of self-portraits fit or break with that collection
JN: Though the best known self portraits in the Uffizi collection date from the 16th and 17th centuries, the museum also collects modern examples, including ones by
Chagall
, Beuys, Morandi, and many others. So on the one hand, Mapplethorpe will be very much at home there. On the other hand,
there are very few photographs
, much less works by artists known primarily as photographers, and very few works by Americans, so Mapplethorpe will certainly stand out. And of course the beauty and impact of his Self Portrait is simply outstanding.
TuscanyArts: The two works donated to the Accademia will be displayed on a rotating basis in the gallery's Salone dell'Ottocento. How do the works chosen resonate with this space and its contents?
JN: The Galleria dell'Accademia was created an collection for students in the art academy, to provide works that could serve as models and provide inspiration. The Salone dell'Ottocento is dedicated to works by Academy professors who were inspired by ancient and Renaissance art. Mapplethorpe, though hardly an academic, did study art history when he was an art student in Brooklyn, and often said that this left an enormous impact on his art. We can see it; that was the logic behind the exhibition I co-curated at the Galleria dell'Accademia, 'Perfection in Form.'
The Mapplethorpe works donated to the museum illustrate how one modern artist found inspiration in the past
, and, ideally, his photographs will provide inspiration for artists of the future.
You might also be interested in