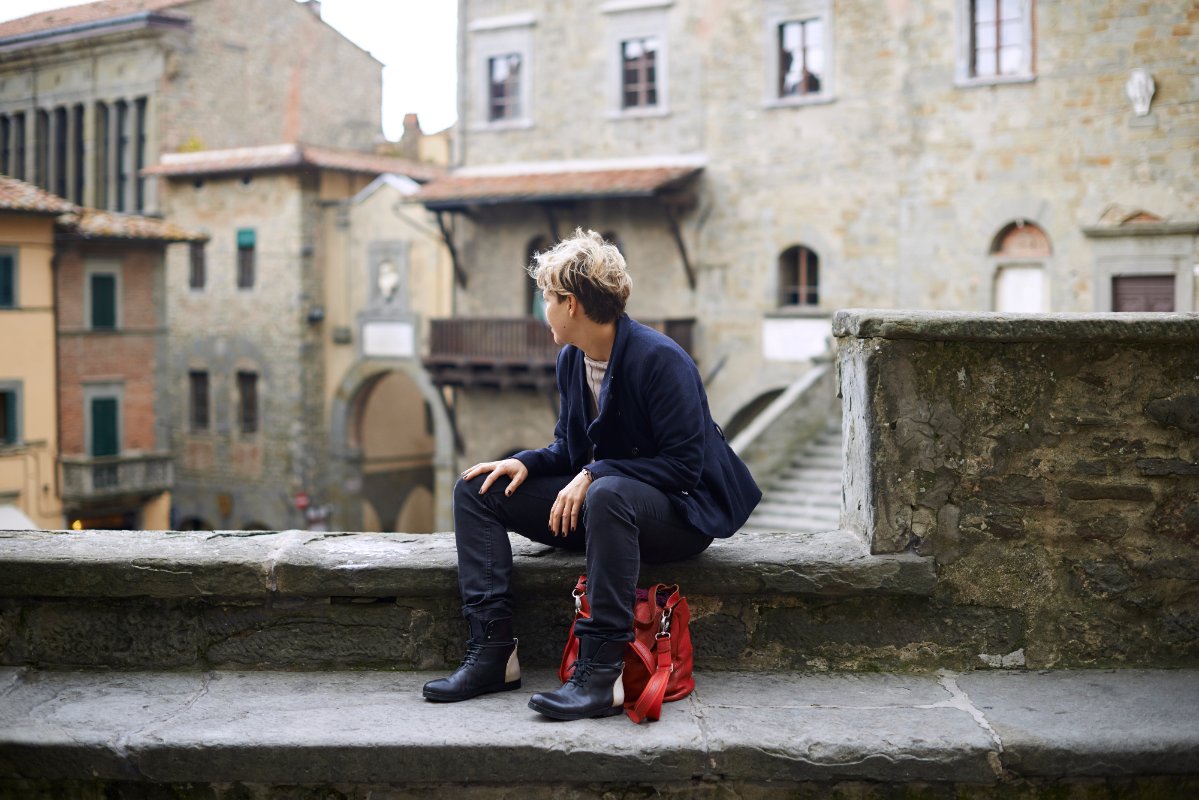 Daniel Spoerri Sculpture Garden in Maremma, Tuscany
Swiss artist
Daniel Spoerri has created a large and enchanting sculpture park in Maremma
, near the top of Monte Amiata in Tuscany. The park counts
one hundred installations
in various media, about forty of which are by Spoerri and the remaining were carefully selected by him for this space. The vast park – sixteen hectares – offers a range of terrain and viewpoints, with some works that stand out at a distance and others almost hidden.  If you've been there a while ago, go back: new works are added each year (2 this year, 8 last year). Spoerri's park is the less-famous sculpture garden in Maremma; more people know of Niki de Saint Phalle's Tarot Garden although niether place ever gets really crowded. While Niki's works are colourful and have such a strong impact on the landscape that they can be easily seen on google map's satellite photos,
Spoerri's collection takes advantage of the woods, plains, and views of the valley that the terrain offers
. Many of the sculptures by Spoerri and Eva Aeppli – whose works make up the second greatest number in the garden after the owner's – are in bronze, which camouflages well in the woods.
Is there a unifying theme to these works?
Over forty artists have contributed to the park, but Spoerri personally chose them; he always looks for something different, something he thinks hasn't been done before – in any medium. One common factor seems to be that all the works are highly personal. Often they deal with fears, dreams, or nightmares. Stylistically, as well, the majority of the pieces by Spoerri and many that seem inspired by him are assemblies of shapes rendered in bronze, often modeled after real objects. Here are some highlights of the park that explain what I mean (I hope!).
My favourites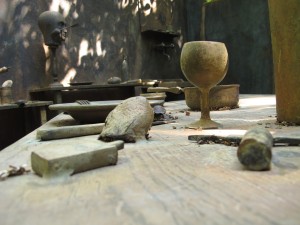 Spoerri: Chambre No. 13 de l'Hotel Carcasonne, rue Mouffetard 24, Paris 1959-65 (1998). Perhaps the most famous work in the park, it's a whole room reconstructed in bronze, with an open ceiling in the middle of the woods. Every detail, from hanging clothes to beans on a plate, is crafted in a beautiful bronze that offers so many textures and colours.
J.R. Soto: Penetrable sound (1997). The visitor is invited to "walk very very very slowly" (says the sign) through the 400 suspended aluminum tubes that make a major racket when they collide.
Olivier Estoppey: Dies Irae (160 geese). At the park's far extremity is this installation of 160 cement geese flocking together towards… what? There are also 4 other large sculptures that make up this work but I most enjoy the geese, whose faces actually have personality despite their production in multiples.
Landscape Art
Other works are installed to take particular advantage of the landscape and the view from the garden:
Luigi Mainolfi: Terra Fertile (1999/2000). A series of rather phallic metal towers topped with terracotta pots silhouetted against the blue sky. I like them, the colour of the pot is a nice contrast with the blue sky and it recalls fertile earth (the title) as well as Tuscanness. [see photo above]

Katharina Duwen: La Belle Poubelle (1997). Near the latter work this "dump" recreates garbage in finely rendered bronze imitation, behind which we see a town in the distance. This work is one of the closest in style and technique to Spoerri's (in fact I thought it would be by him); one things of the "Chambre No. 13" and its perfect imitation of objects. Duwen reproduces a broken wicker basket in bronze; some dried cut grass has fallen into it. I was surprised to find it so solid when I touched it as we expect wicker to give, while bronze does not.
Daniel Spoerri: Walled labyrinthine path (1996/98). A large stone structure extended vertically on gently upward-sloping terrain, based on a precolumbian petroglyph. Esther Seidel's lifesize bronze Visitor eternally observes this from a metal platform.
The hidden sculptures
Sometimes you only realize there's "art" in a spot because you see the sign first. These are some of the most interesting "hidden" works.
Pavel Schmidt: Do not open until the train has stopped (1996/7). I only found this when I looked UP to see a strange object hanging from a heavy metal structure. Stone replicas of Michelangelo's David and Botticelli's Venus form two poles of the object. I have no idea what this has to do with its title.
Dani Karavan: Adam and Eve (2002). This work takes advantage of an existing object in the park: an olive tree. An old and knobbly olive tree that has over time separated into two trunks has been painted gold on the inside. You can see it shining from a distance but up close it has less impact.
Eva Aeppli: The other side (1974/80). I only noticed this bronze head, tucked within an olive tree's trunk, because there was a sign near it.
Photos and Video
[youtube]http://www.youtube.com/watch?v=1ylGjO3ZLcM[/youtube] I overloaded on photos, here's the flickr gallery and a short video!
Information and tips
It takes about 2-3 hours to go through the garden. I wore long pants, closed shoes, and a floppy sun hat, all of which I was thankful to have. Bug spray is also useful.
If you think you haven't seen 100 works yet but you've been through the woods and plains, look around the buildings and even inside some open doors!
There is a bar and restaurant on site, though I brought sandwiches and, as there weren't many people there, we simply ate sitting at the bar's outside tables. I suppose this is okay by them.
Best visited on a cool day in spring or fall, if you have to go in the heat of the summer aim for 4/5pm (it's open until 8pm).
Cost: 10 euros for adults, 8 euros students
Open: opens at 11am, closure varies with sundown. Open only from Easter to October 31 (this area gets pretty snowy in the winter!)
Location
Seggiano (GR) - once you get there follow signs. [geo_mashup_map] Here's the best road to take if you're
driving to Daniel Spoerri Sculpture Garden from Florence
. This sculpture garden is part of my Weekend in Maremma Itinerary (post coming soon)
You might also be interested in