Bread, pasta and legumes
Schiaccione Beans
A product found throughout Versilia and Lucchesia with a historic taste
Category
Bread, pasta and legumes
The schiaccione bean is a typical Tuscan product, found throughout the province of Lucca (the countryside of Lucca and Versilia), in particularly, in Pietrasanta. Production happens between August and October. The peculiarity of the product is due to its local origins and its characteristic form and taste. The terrain of this area is particularly adapted to the production of legumes, as they remain fresh even in summer. The terrain is an element that has a decisive impact on growth and hence the quality of the final product.
The schiaccione bean has a white-green pod, with some mottling and an elongated shape. Once cooked, they have a delicate taste and do not tend to fall apart. The delicacy of this bean means that it is best to prepare it simply, boiling and then seasoning them with Tuscan extra virgin olive oil. They are also great with pork salami.
You might also be interested in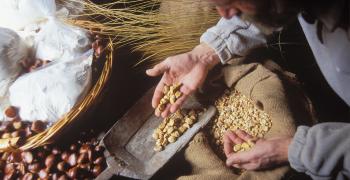 Learn more
Food and Wine
Olive oil, wine, truffle and other culinary delights make up the excellence of Tuscan gastronomy.
continue...