Meat and fish
Pork "Spuma di gota" from San Miniato
The soft pâté is still made today using the original recipe from 1920
Similarly to pâté, "Spuma di gota" from San Miniato, a typical dish from the Pisa area, is a speciality which is in some ways unique on a regional level, for the simple reason that there are no other pigs of the same type and consistency in Tuscany. Made from pork cheek (the 'gota') and seasoned according to the traditional recipe from 1920 with salt and bay leaves, or with salt, pepper and garlic, Spuma di gota is soft and spongy, pink in colour and with a pronounced taste, ideal spread on a slice of warm bread. The mixture is left to rest in the fridge for about a week, after which it's put to mature in a cellar for a period of at least five months. After this phase, it its minced with a knife then turned into a sort of paste with a stone or marble mortar; further seasoning is then added. The production happens between September and May.
Produced by a single salami shop in the San Miniato area, which makes about 3 quintals per year, Spuma di gota from San Miniato is a protected Slow Food product.
You might also be interested in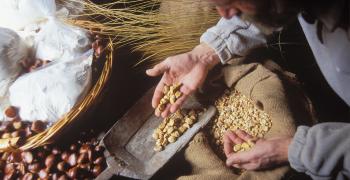 Learn more
Food and Wine
Olive oil, wine, truffle and other culinary delights make up the excellence of Tuscan gastronomy.
continue...