Bread, pasta and legumes
Pane Marocco di Montignoso
The production of this bread is a local tradition
Category
Bread, pasta and legumes
Origin
Comune di Montignoso and the Massa plain
The making of this bread plays a part in the traditions of the Montignoso municipality as well as the neighbouring communities in the Massa Carrara province. This particular bread is connected to traditional economics, when cornflour was more readily available and less expensive than wheat. White bread was a rarity reserved for festival days.
The Pane Marocco ("Moroccan bread") is made from a mix of cornflour and soft wheat flour with the addition of brewer's yeast. The flours are made into a dough with water and olive oil, then black olives, either fresh or those conserved in brine, chopped rosemary, garlic, sage and chili, and salt. The bread takes a round shape of about 20-25cm in diameter that, after rising, is baked in the oven. It has a golden-brown colour and a true taste of bread, increased by cooking, that comes from a wood-fire oven with chestnut leaves. It is traditionally produced between November and January to coincide with olive picking, but it can still be found at bakeries and shops all year around. It is eaten fresh, on its own or accompanied with antipasti.
Before the war, the farmers of Montignoso would make homemade bread on Saturdays, as well as the Pane Marocco with olives inside, and they would cook it on chestnut leaves. Research into the Pane Marocco by Marcello Podestà (a historian from Montignono) says that in 1642 someone asked the Consiglio degli Anziani of Lucca permission to make this type of bread. That makes the Pane Marocco at least 350 years old (it's looking good for its age!).
You might also be interested in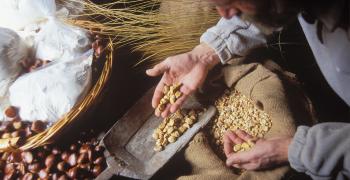 Learn more
Food and Wine
Olive oil, wine, truffle and other culinary delights make up the excellence of Tuscan gastronomy.
continue...