Cheese and cold cuts
Montignoso sausages
A product with ancient origins, vaunting a rose colour and a delicate, fresh taste
Category
Cheese and cold cuts
Montignoso sausages represent one of the most sought after and praised products. The recipe is the same as 100 years ago, and is passed from generation to generation without modifications, so that the taste of the past is undoubtedly unique and unforgettable.
The Montignoso sausage has a cylindrical-tube form, a length of about 3cm, and it is obtained by careful selection of the best parts of the pig: prosciutto, shoulder, capocollo, belly and lard. Once selected, the meat is carefully spiced, minced and kneaded with the help of steel equipment, then it is seasoned with salt, pepper and minced garlic, and then encased in pig intestines, braided and tied with twine in the shape of small cylinders. It has a rose colouring, a fragrant smell and a delicate and fresh taste. It is consumed fresh or cooked. The tradition of the product is given by the particularity of the processing methods, handed down over time by salami makers. The quality and the typical characteristics of the Montignoso sausage are due to the type of meats and the spices used.
It is best eaten raw, with grilled bread.
You might also be interested in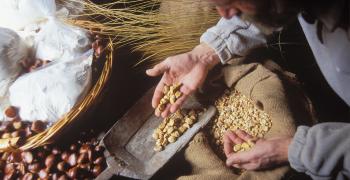 Learn more
Food and Wine
Olive oil, wine, truffle and other culinary delights make up the excellence of Tuscan gastronomy.
continue...