Fruit, vegetables and desserts
Lunigiana vegetable pie
Delicious home-made savoury vegetable pie
Category
Fruit, vegetables and desserts
Lunigiana vegetable pie is a savoury pie made with salad leaves and seasonal vegetables. It is round and its filling has a deep green colour.
It is traditionally made from March to May and from September to December. The salad leaves and vegetables (chard, onions, wild spinach, wild asparagus, leeks, carrots) are washed, chopped and cooked in boiling salted water. They are then left to rest, they have the moisture squeezed out of them and are mixed with other ingredients (parmesan cheese, grated bread, olive oil and salt).
The pastry is prepared with flour and water. Once a compact dough has been made, the pastry is placed on a greased baking dish.
The vegetable mix is then placed in the pastry case and cover with another layer of pastry. All the salad leaves and vegetables used in this pie come from the local area and the quality of the pie depends on the quality of the produce used. It can be eaten as a starter or as a main course.
This pie is largely made in the home although it is also mass produced in the area around Lunigiana.
You might also be interested in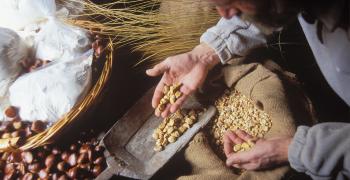 Learn more
Food and Wine
Olive oil, wine, truffle and other culinary delights make up the excellence of Tuscan gastronomy.
continue...