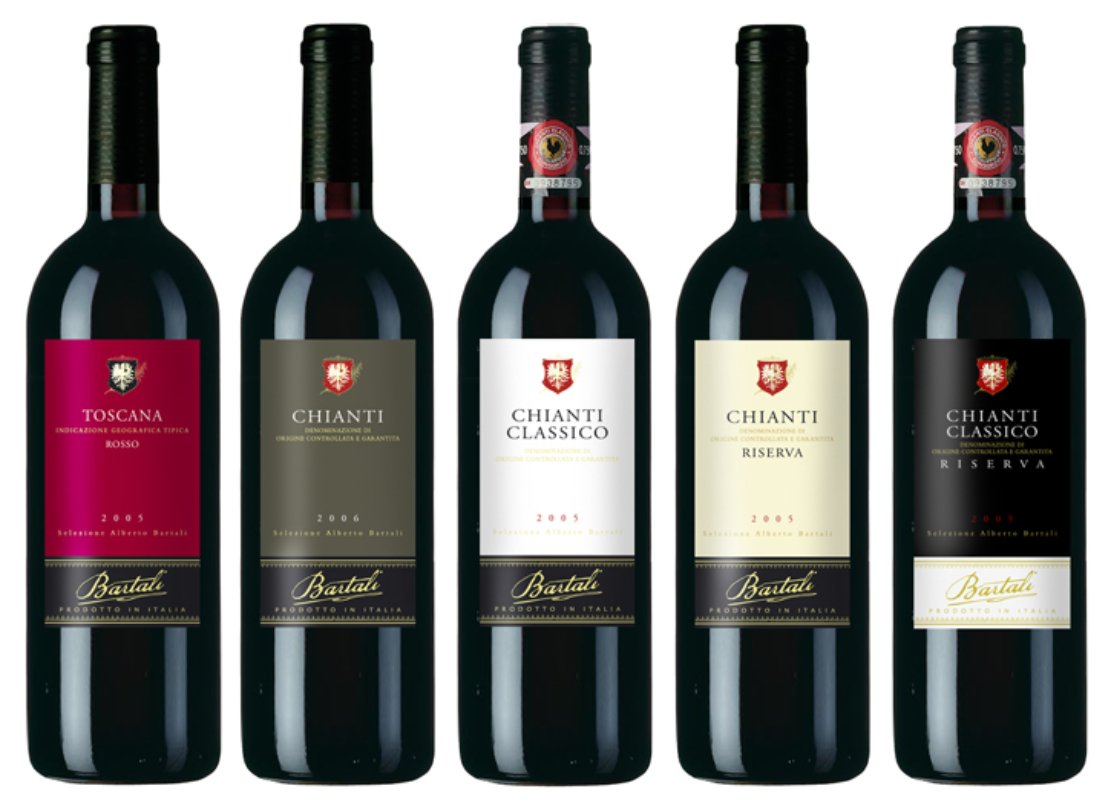 Wine, olive oil and honey
Chianti DOCG
Il vino più famoso al mondo
Category
Wine, olive oil and honey
Varie parti della Toscana, che formano la più grande regione vitivinicola italiana, che interessa in tutto o in parte oltre 100 comuni delle province di Arezzo, Firenze, Pisa, Pistoia, Prato e Siena.

Storia e paesaggio - Il Chianti è da sempre il vino toscano per antonomasia, un prodotto che ha reso famosa in tutto il mondo la sua regione di origine e che ancora oggi, pur nelle sue molteplici tipologie derivanti da zone produttive talvolta differenti, mantiene alto sui mercati internazionali il prestigio dell'enologia italiana. Anche se qualcuno lo chiama scherzosamente Chiantishire per l'alta frequentazione di inglesi e americani. La prima delimitazione relativa al vino Chianti risale al 1932, mentre la denominazione di origine controllata risale al 1967 e nel 1984 è stata riconosciuta la denominazione di origine controllata e garantita. La denominazione Chianti può essere integrata dalla specificazione Superiore nonché dalle specificazioni geografiche Colli Aretini, Colli Fiorentini, Colli Senesi, Colline Pisane, Montalbano, Rufina e Montespertoli, corrispondenti alle rispettive sottozone geografiche.

I vitigni - I vitigni fondamentali che concorrono alla formazione del vigneto Chianti sono i seguenti: Sangiovese (minimo 75%), Canaiolo nero (fino al 10%), Trebbiano toscano e Malvasia del Chianti (fino al 10%), complementari a bacca rossa (fino al 10%). La resa massima di uva per ettaro è di 90 quintali, che scende a 80 per le sottozone e a 75 per la specificazione Superiore. Il vino Chianti non può essere immesso al consumo anteriormente al 1° marzo dell'annata successiva a quella di produzione delle uve, a eccezione del Chianti Colli Fiorentini, Rufina e Superiore, per i quali la data di immissione al consumo decorre dal 1° settembre, e Chianti Montespertoli, per il quale tale data decorre dal 1° giugno. La tipologia Riserva deve essere sottoposta a invecchiamento di almeno due anni, a decorrere dal 1° gennaio successivo all'annata di produzione delle uve, con almeno tre mesi di affinamento in bottiglia.

Caratteristiche organolettiche - Le caratteristiche del Chianti sono: colore rubino vivace, tendente al granato con l'invecchiamento; sapore armonico, asciutto, sapido, leggermente tannico che si affina col tempo al morbido vellutato; profumo intensamente vinoso talvolta con profumo di mammola e con un più pronunciato carattere di finezza nella fase di invecchiamento. La gradazione alcolica minima è di 11,5° e 12° per alcune sottozone (Colli Fiorentini, Rufina e Montespertoli), per il Chianti Superiore e per la Riserva. Nel caso di Chianti Riserva riferito alle sottozone, la gradazione minima è 12,5°.

Gastronomia - Il Chianti può essere consumato, per qualche tipologia, come vino giovane, fresco e gradevole al palato, ma è ben nota anche, per talune zone, la vocazione a un medio e lungo invecchiamento, con cui acquista profumi e sapori inconfondibili. Nella sua grande varietà il Chianti è un vino per ogni occasione. In alcune zone si producono vini giovani adatti a "tutto pasto", nonché ai primi piatti con salse al ragù, lessi e umidi; in altre, vini più strutturati, di moderato invecchiamento, che ben si accompagnano al pollame e agli arrosti di carni bianche; infine, laddove si hanno vini di grande carattere, alcolicità e invecchiamento, il loro accoppiamento più indicato sono gli arrosti, la selvaggina e i formaggi stagionati. In realtà un Chianti giovane può essere un degno accompagnamento anche per un sapido cacciucco.
Chianti
The Chianti hills, which resemble a wavy chain, are between the provinces of Florence, Siena and Arezzo and have always epitomized this land, popular since the first person ever set foot here. ...
Scopri Chiantikeyboard_backspace