Meat and fish
Calvana cows
A breed of bovine typical of the Val di Bisenzio
Origin
Mugello, Val del Bisenzio, Siena, Pistoia
The Calvana cow leads us on a discovery the territory, characterised by mountains and meadows that separate the Val Bisenzio from the Mugello. With respect to the original breed, it differs in its smaller size and lower stature. Today, it is still possible to spot some small herds of the "Calvanina" breed in the wild.
Typically reared in the provinces of Florence (the Mugello) and Prato (Calvana and Val di Bisenzio), recentlysome cows have been spotted in the province of Pistoia and Siena.The Calvana is particularly bred on medium sized farms in hilly and mountainous areas. Good breeding and rustic, the Calvana does well in marginal environments and pastures in the Apennines.
"Calvana" meat is used in the famous polpette di carne alla pratese, Prato-style meatballs, as well as the bistecca fiorentina, but it is also good in stews.
You might also be interested in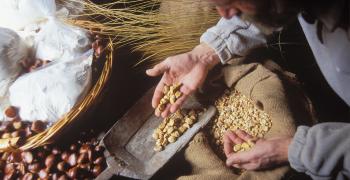 Learn more
Food and Wine
Olive oil, wine, truffle and other culinary delights make up the excellence of Tuscan gastronomy.
continue...