Cheese and cold cuts
Bardiccio
This salami typical of the Florentine mountains has a strong flavour of fennel seeds
Category
Cheese and cold cuts
The Bardiccio is a salami typically connected to the Florentine mountains. It has the characteristic form of sausage, but is longer, connected with twine, usually in pairs (you can also find ones in four), and is encased in pig intestine. Its dark red colour varies due to the quantity of heart used in the mixture and its freshness: it is much lighter when made and develops a darker tone as it ages. The taste is decisive, with a pronounced flavour of fennel seeds, maintaining its roundness when cooked. For production, second cut meats of the pork, beef and heart are used (bovine is preferred, but also pig).There is, however, no precise and documented recipe for bardiccio: every producer mixes the ingredients according to their own tradition.
The common thread of this artisan product is that it is a fennel-flavoured sausage. Pig meat is the base ingredient and constitutes at least 80% of the sausage: the parts used are what are left over from the production of salami, sausage and fennel. The bovine meat serves to refine the taste, while the heart is what makes it unique. Regarding the aromas, fennel seeds stand out, followed by garlic, spices, salt and pepper.
The typical method of preparation is grilled or stewed andcooked with tomatoes, but it is very versatile, so you can use it in many recipes, from risottos to full roasts.
You might also be interested in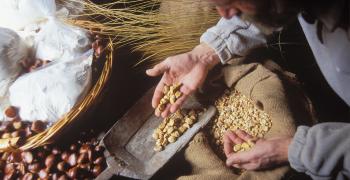 Learn more
Food and Wine
Olive oil, wine, truffle and other culinary delights make up the excellence of Tuscan gastronomy.
continue...