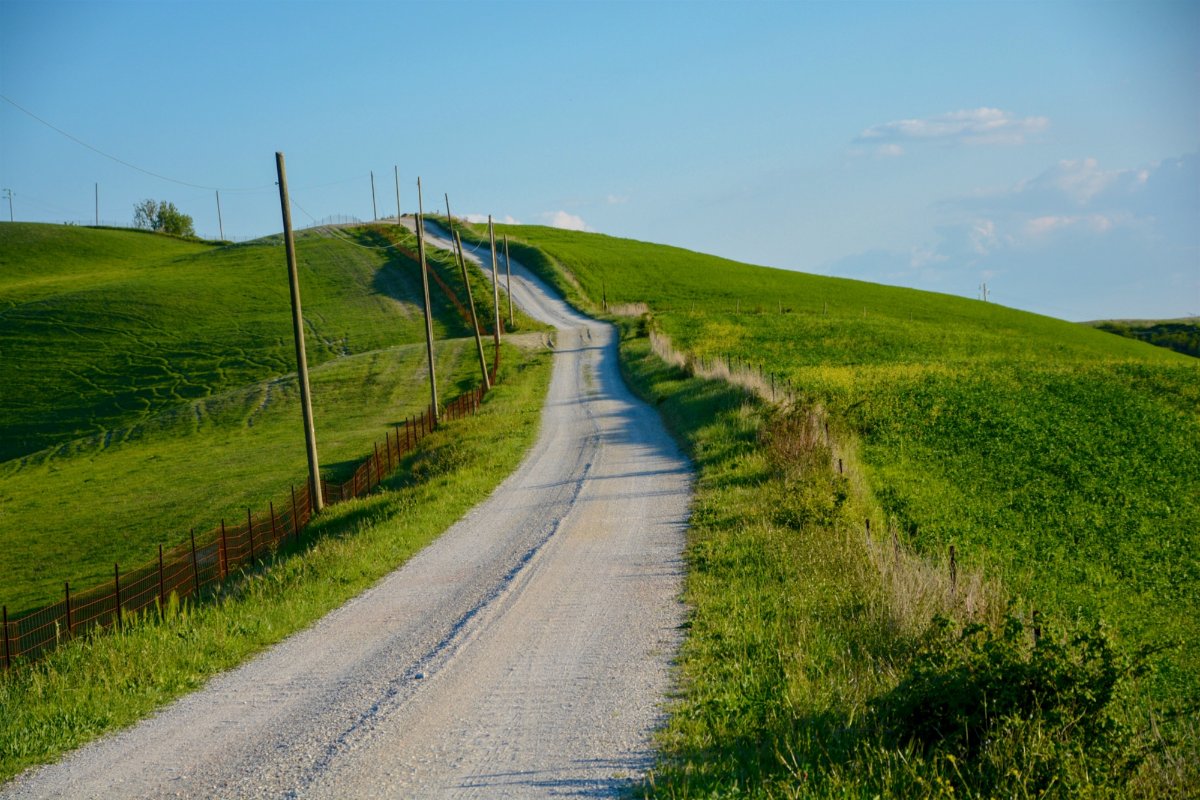 golf_courseSport
World Francigena Ultramarathon
On 12 and 13 October, trekking and nordic walking along the Via Francigena
The old trail walked by pilgrims is the setting for the World Francigena UltraMarathon on 12 and 13 October. It's a non-competitive 120-kilometre walk consisting of trekking and nordic walking, which can be divided into five different sections.
Five routes have been designed, according to the needs and fitness levels of the participants. All the trails reveal the beauty of one of the oldest walks in Europe. This year, a few new variants have been added to the usual trail, such as the route from Renaccino and the Strada di Radi (along the original Via Francigena route), which runs along a stunning ridgeway with views over Siena, as well as a section near Radicofani, where a piece of road has been removed in favour of more picturesque trails. A night hike from Buonconvento to San Quirico d'Orcia has also been introduced, allowing participants to see the lights of Montalcino and Val d'Orcia.
ROUTES
Siena-Buonconvento: a 35 km route on 12 October at 10am, starting in Piazza Duomo (race number pickup in vicolo San Girolamo, 4, 4-8pm on 11 October and 8-9.30am on 12 October), which runs through the main places in the first part of the Ultramarathon in Val d'Arbia.
Buonconvento-San Quirico d'Orcia: the shortest route in this edition, covering 20km from one of the loveliest villages in the Siena Province, Buonconvento, to the gateway of Val d'Orcia, San Quirico d'Orcia. Start time 3pm on 12 October in piazza Giuseppe Garibaldi in Buonconvento. Pick up your race numbers from 2 to 3pm at the tourist information stand.
San Quirico d'Orcia-Acquapendente: 65 km through the heart of Val d'Orcia, arriving in Lazio, among walled villages, endless views, spas, valleys and rivers. Saturday 12 October at night (9pm) from San Quirico d'Orcia (Piazza Chigi). Race number pickup from the same place (8-9pm).
Radicofani-Acquapendente: this is the end of an experience that's not only a sporting one (32 km) and which retraces the final section of the more complex World Francigena UltraMarathon. The event takes place on Sunday 13th October at 9am in piazza San Pietro in Radicofani, where you can pick up your race number from 7.30 to 8.45am.
Organized by the tourism office of the City of Siena and the sport and tourism office of Acquapendente, with the support of the Associazione Europea delle Vie Francigene, the Regione Toscana and Regione Lazio, and the collaboration of the municipalities of Monteroni d'Arbia, Buonconvento, Montalcino, San Quirico d'Orcia, Castiglione d'Orcia, Radicofani, San Casciano dei Bagni and Proceno, the event aims to offer a green and slow travel experience of a land of natural and artistic gems throughout the ten municipalities involved in the event in Tuscany and Lazio.
When
From 12 Oct 2019
to 13 Oct 2019
INFO
Website
Mail:
francigenaultramarathon2019@gmail.com

Registration fees depend on the route chosen. (65 euro for the 120 km of the Ultramarathon; 55 euro for 65 km San Quirico-Acquapendente; 20 euro for Siena-Buonconvento, 35 km; 25 euro for 20 km from Buonconvento to San Quirico; and 20 euro for 32 km from Radicofani to Acquapendente). You can sign up online until 1 October or until 1000 participants have signed up: www.francigenaultramarathon.it
Details
From 12 October 2019 to 13 October 2019
start 10:00 end 20:00