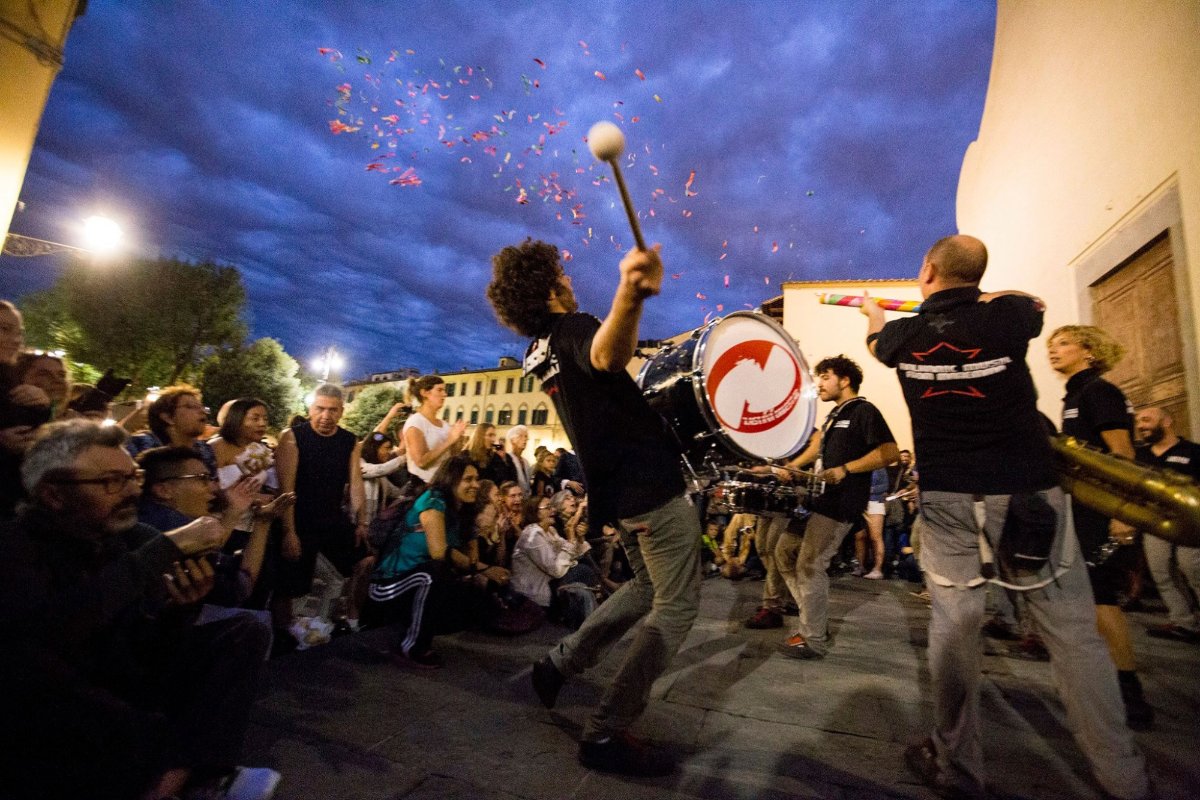 starFestivals
Cirk Fantastik 'Aquarius'
11 days of showmanship and more than 40 shows from 12 to 22 September in Florence
Cirk Fantastik returns to Florence's Cascine Park. This year's subtitle is "Aquarius". Like in a sea or in a universe of varied expressions that convey the fluidity, shimmering colours and myriad of unexpected languages and shapes, Cirk Fantastik blends art at its freest.
More than 40 shows from 12 to 22 September in the CircoKrom space and in the new Chapiteau del Teatro delle Foglie. In addition to these two spaces in the festival area, the touring theatre company Samovar will be in attendance, a small modular travelling vehicle that becomes a theatre, as well as "Le Petit Poisson" space for kids, an interactive children's show every afternoon from 12 to 18 September.
Wednesday will be the evening for work in progress, shows in proud discussions with the audience, organized in partnership with "Giocolieri e dintorni" as part of the nationwide project "Quinta Parete - il pubblico in pista", which aims to develop and spread the word about contemporary circus art in Italy. At 11pm, the night comes alive to the beat of Balkan, cumbia, afro, funky and pop.
We're still waiting for the final programme, but here are a few highlights. Ballata d'autunno (12-19 September) is a modern fairytale told by Marta and Nicolas through the universal language of the body, looks and shadows. It's a multidisciplinary work of wordless visual theatre that blends the theatre of shadows, mime, aerial acrobatics, dance, manipulation and clowning in a surreal, noir setting.
"Sogni in scatola" (21-22 September) operates in a world of boxes and packaging. Building a house is the most pressing need and it's the aim of Matteo Mazzei and Elena Fresh. The show moves from poetics to fun as the pair portray the different facets of life through various circus disciplines.
Aerial acrobatics and circus theatre with "Immaginaria" (14 September) to move into fantasy and learn how to dance with your dreams. Maldimar appears, pulling along a giant trunk. He's a character halfway between a cartoon and a street urchin, which reminds the audience about the wonder of children.
Street art that flows from acrobatics to clowning with an elegant, fun spirit for the Nanirossi Show (14-15 September). "Tangram" (21-22 September; for 10 years and over) sees dancer Cristiana Casadio and world-famous Stefan Sing bring something new to their respective art forms as they tell a story of love, resentment and power. A profound, non-verbal exchange filled with humour and physical dexterity. Complicated, sexy and deeply imaginative, Tangram draws new boundaries between dance, contemporary circus and physical theatre, describing the human fight between attraction and repulsion.
When
From 12 Sep 2019
to 22 Sep 2019
Details
From 12 September 2019 to 22 September 2019