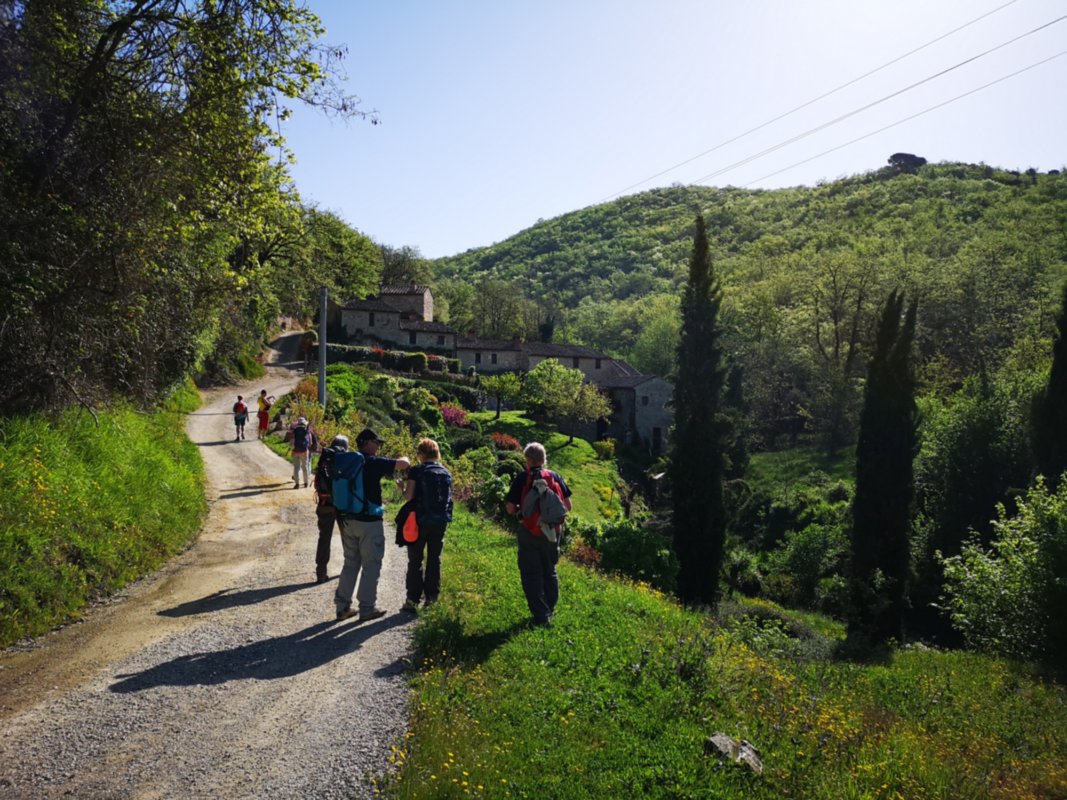 directions_walkTours
Trekking da Firenze a Siena
4 giorni di viaggio a piedi lungo la storica Via Romea del Chianti
La Via Romea del Chianti, che congiunge Firenze a Siena è un vero e proprio percorso storico, ricco di testimonianze del passaggio di pellegrini, documentato dall'esistenza di antichi ricoveri. Portato alla luce dall'ottimo lavoro di un gruppo di volontari dell'Associazione "Comunità Toscana Il Pellegrino", attraversa il cuore della regione in uno dei più bei paesaggi d'Italia: il Chianti.
A piedi da Firenze incontreremo la Certosa, Chiesanuova con la sua schiacciata, villa Vrindavana, la casa del Machiavelli, San Casciano, la Pieve di Campoli, Badia a Passignano, la Pieve e San Donato in Poggio, Castellina in Chianti, Magione, Uopini e infine Siena.
Download the leaflet
When
From 30 April 2020 to 03 May 2020
start 12:00 end 18:00
Book
keyboard_backspace
Prices include
Organizzazione del viaggio
Guida ambientale escursionistica
Assicurazione medico e bagaglio
Offerta per la credenziale del Pellegrino
3 pernottamenti
2 Cene
Le visite guidate della casa di Machiavelli e della Badia a Passignano.
Trasporto bagaglio
Supplemental charges
Il viaggio per raggiungere il punto di ritrovo e il ritorno
I pranzi al sacco, le bevande e gli extra durante le cene,
La cena della seconda sera in trattoria.
Plan
4 Giorni di cammino Da Firenze a Siena lungo la via Romea del Chianti!
1° GIORNO - Firenze – Villa Vrindavana - km 16
Si parte dal Ponte Vecchio, si esce dalla città a Porta Romana lungo una via disseminata da antichi spedali per i pellegrini e per strade "murate", caratteristiche dei dintorni di Firenze, si giunge alla Certosa di Firenze. Attraverso vie asfaltate con scarso traffico e sentieri boscati si arriva a Chiesanuova famosa per le sue schiacciate dove faremo merenda. Ancora un tratto misto di sentieri e strade sterrate per giungere infine in un luogo davvero speciale. Note: Pranzo al sacco. Cena vegetariana. 5 h 30'; + 550 m; - 380 m
2° GIORNO - Villa Vrindavana – Pieve di Campoli - km 15
Dopo colazione si arriva a Sant'Andrea in Percussina dove visiteremo la Casa di Machiavelli esiliato nel 1513 in questa località dopo il rientro dei Medici in Firenze. Proseguiamo per San Casciano e costeggiando magnifici vigneti e castelli giungeremo alla Pieve di Campoli dove pernotteremo nella canonica dei pellegrini. Per la cena ci concederemo un breve transfer ad una spettacolare trattoria nelle vicinanze dove ognuno mangerà quello che vuole.
Note: Pranzo al sacco, cena in trattoria 5 h; + 500 m; - 450 m​
3° GIORNO - Pieve di Campoli – Castellina in Chianti - Km 15
​Per poggi e valli passeremo dalla Badia Vallombrosana di Passignano che se possibile visiteremo e fra boschi e vigne arriveremo a San Donato.
Note: pranzo al sacco. Cena in ristorante. Pernottamento in albergo. 5 h; + 750 m; - 500 m
4° GIORNO - Castellina in Chianti – Siena Km 19 (22 se finiamo in Piazza del campo)
​Da Castellina fino a Siena è il Chianti tradizionale con splendide fattorie e lussuosi Agriturismo.
Note: pranzo al sacco. 5 h; + 458 m; - 380 m
​
Organization
Mald'avventura di Gaimari Giuseppe
P.IVA: 01912530498
Scali delle Ancore 9
Livorno
3409510078