natureNaturalistic attractions
The Botanical Garden of Lucca
Spectacular centuries-old plants, rare flowers and a pond safeguarding an age-old legend
The Botanical Garden of Lucca is a real natural treasure located in the heart of Lucca's city center. Spanning over two hectares, the structure was founded in 1820 by Maria Luisa of Bourbon, the duchess of Lucca at the time.
Here, you'll find thousands of plant species from all over the world and centuries-old plants. Among them, check out the majestic Libano cedar tree, a plant that rises 22 m high and spans 6 m wide. Planted by Paolo Volpi in 1822, the tree's impressive foliage has crowned it the garden's symbol. Other tall species include the impressive magnolia, ginkgo and black pine trees stretching over 30 m high.
The garden's most important collections include medicinal plants, Ericaceae, hydrophytes, spontaneous vegetable species (used for food in the Lucchesia area) and a selection of camellias. The Cesare Bicchi Botanical Garden is also found annexed to the main structure, a place that contains historic herbariums (Puccinelli and Bicchi) and the scholarly garden materials collected and passed down through time. The garden's Botanical School also set up a guided path for the visually impaired featuring a handrail and sign posts in braille.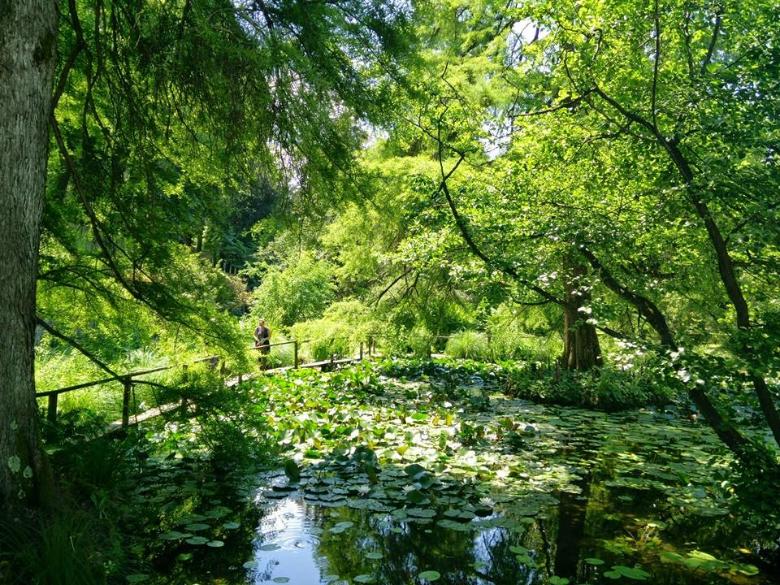 The garden also features a small pond; in its center you'll see a bald cypress poking through the water, a plant originally from Florida's swamps. And this water is also keeper of an ancient Lucchese tale: that of Lucida Mansi. Legend says that the noblewoman made a deal with the devil in order to maintain her youthful look. When the deal finally expired, he came to fetch her at her door, dragging her on a burning chariot throughout the entire city. In the end, she was dragged down into the abyss, passing through the pond adorning the garden today.
Lucca
A bastion-protected medieval city and a blast of comics, culture and colors
Many people born and bred in Tuscany consider Lucca an outlier—it's not uncommon to hear Florentines mutter "that's not Tuscan", probably when referring to the bread, which is salted in Lucca and strictly plain elsewhere in Tuscany; or to the Lucchese people's mode of speaking (unique, to say the least); or to the fact that Lucca is the region's only city-state to have preserved its ...
Morekeyboard_backspace
You might also be interested in