crop_originalArtworks
San Jacopo silver altar
The Cathedral of San Zeno in Pistoia is home to a silver masterpiece made over 200 years
The silver San Jacopo altar is located in the Cathedral of San Zeno in Pistoia, inside the Chapel of the Crocifisso, or Giudizio. This impressive work was made between 1287 and 1456 by the hands of some of the best artisans and artists of the era.
Its construction is closely tied to the adoption of St. James the Apostle as the patron saint of the city in the 12th century thanks to bishop Atto. Several events delayed its completion, but the finishing touches were finally added two centuries later, becoming a wondrous summary of sacred art by various artists representing different historical periods.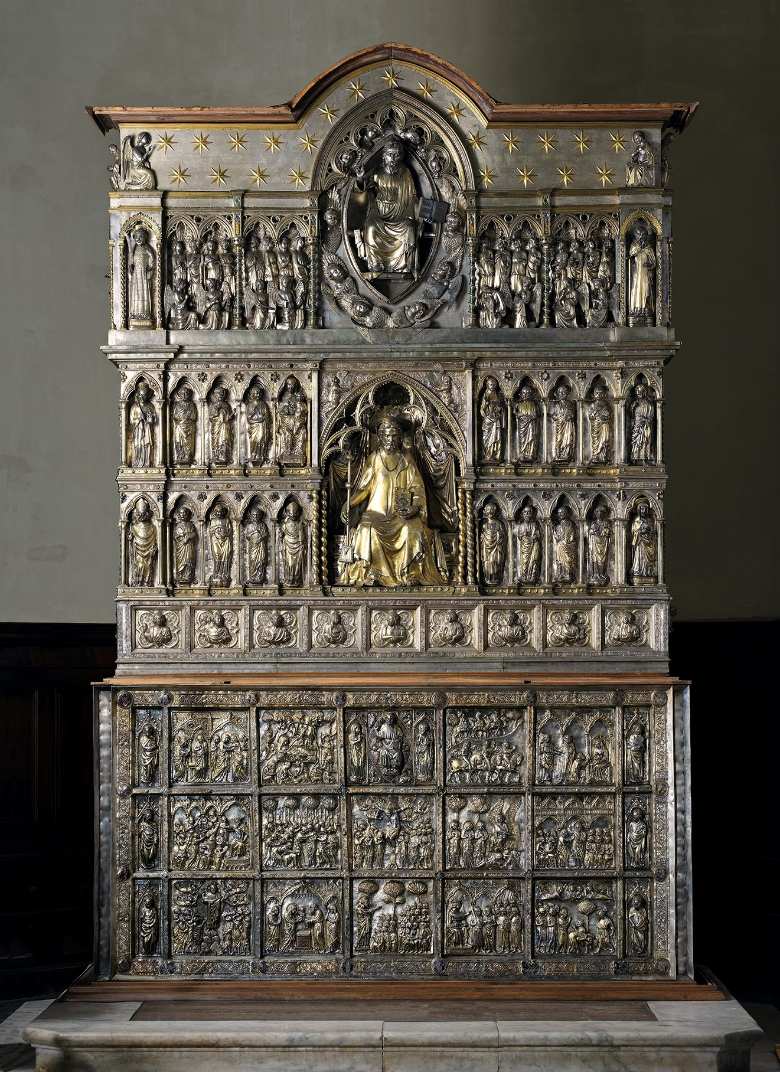 The worship surrounding St. James the Apostle started in 1145, when the Vallombrosian bishop Atto brought the saint's only relic in Italy, his head, to the city. The silver altar was commissioned to serve as a reliquary for the head. For Pistoia, which had become a key stop on the pilgrimage route to Galicia, this meant opening the city's international horizons and thriving cultural growth.
The original core of the altar was the silver altarpiece made in 1287 depicting the Twelve Apostles. In 1316, Andrea di Jacopo d'Ognabene was charged with making a new panel comprising 15 scenes.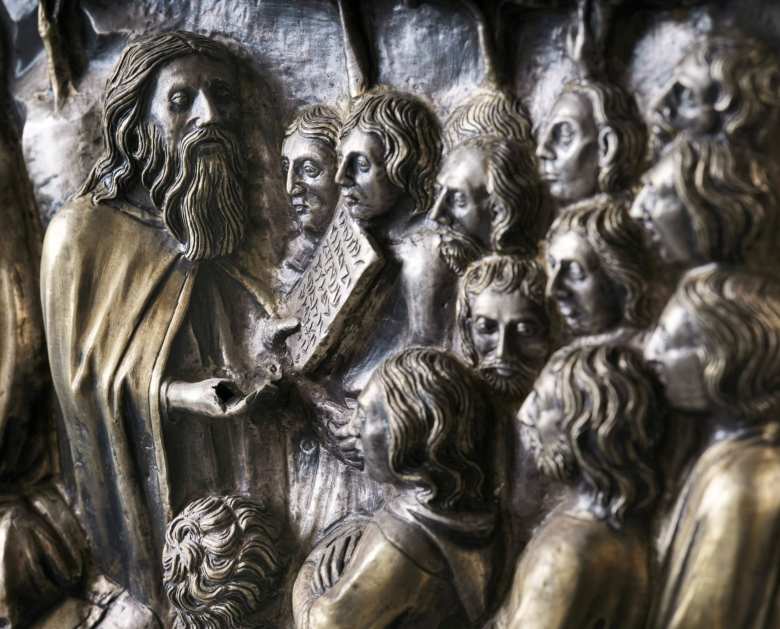 The large silver statue of St. James Enthroned by Giglio Pisano was added in 1349, and in 1361, the sides of the altar were enlarged. The left side was finished in 1364 by Florentine goldsmiths Francesco Niccolai and Leonardo di San Giovanni, while the right side vaunts nine scenes from the life of St. James cast by Leonardo di San Giovanni.
In 1386, the goldsmith Piero d'Arrigo Tedesco worked on the altar, while in 1394-1398, the painter Giovanni di Bartolomeo Cristiani designed the cornice of the reredos, cast by the Florentine goldsmith Nofri di Buto and Atto di Piero Braccini from Pistoia.
In the 15th century, the workshop of Lunardo di Mazzeo and Piero di Giovanni da Pistoia worked on the altar, including a young Filippo Brunelleschi, who is said to have sculpted the busts of the prophets Jeremiah and Isaiah, St. Augustine and St. John the Evangelist. Niccolò di Ser Guglielmo, Domenico da Imola and Piero d'Antonio da Pisa ultimately finished the altar.
Pistoia
History, nature and food in the shade of the Apennines
Pistoia, a seductive city with a deeply historic roots, is a place that will amaze lovers of art and traditions. Poets and writers have heralded the charm of what they've renamed the "city of enchanted stone" and the "city of wide streets and beautiful churches". ...
Morekeyboard_backspace