account_balanceMuseums
Sala d'Arte San Giovanni
Sienese painting in Castiglione d'Orcia from XIV and XV centuries in a strategic defence point for the old Via Francigena
The San Giovanni art gallery is situated in the fraternity of the same name and conserves paintings done for Castiglione and Rocca d'Orcia by some of the leading figures of the Sienese school of the XIV and XV centuries: Simone Martini, Lorenzo di Pietro called 'il Vecchietta' and Giovanni di Paolo. Alongside these there is a series of liturgical furnishings coming from churches and confraternities of the area.
Immersed in the clay landscape of the Crete Senesi rises Castiglione d'Orcia, a small medieval village of the Sienese countryside. An oasis not just of natural beauty, but also artistic beauty, including the Rocca di Tentennano fortress, an imposing structure built in the 13th century as a defensive outpost for the whole valley. Inside this structure, is the Sala d'arte San Giovanni: an important exhibit for gaining a deeper understanding of, and admiring, the masterpieces of the Sienese school between the 14th and 15th centuries.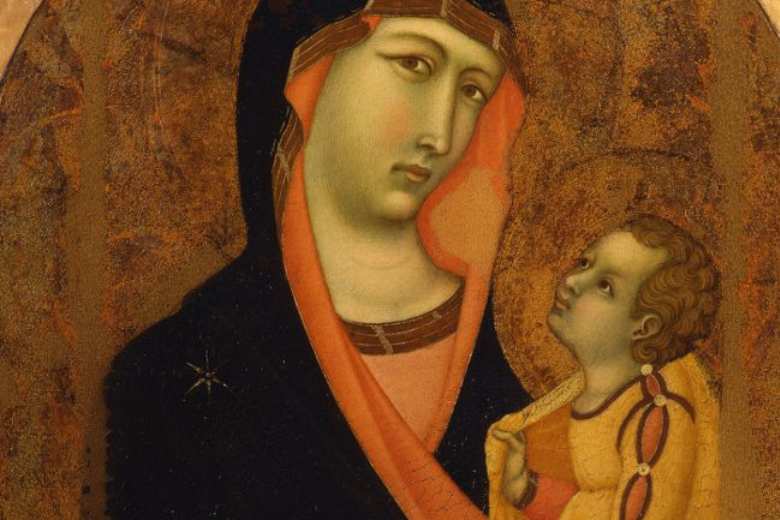 In particular, a prestigious work of Pietro Lorenzetti stands out, the Madonna and Child. This artist, of Sienese origins, is one of the most important exponents of the great period of painting of the 1300s. The older brother of Ambrogio Lorenzetti, who was responsible for the fresco The Allegory of Good Government in the Palazzo Pubblico in Siena, Pietro trained under Duccio di Buoninsegna and participated in the decoration of the lower Basilica at Assisi with painters of the School of Giotto. He then returned to Tuscany in 1320 where he left behind the testimony of his great artistic ability.

This panel painting, after an attentive, year-long restoration, returns to its original splendour next to paintings of the calibre of Simone Martini, Il Vecchietto, and Giovanni di Paolo. On a gilded background, Maria holds her son delicately in her arms, in keeping with iconographic tradition. A deeply profound religious theme represented with great humanity. The style, the use of colour and the attempts to create volume show the direct stylistic influences of his unmatchable masters.
Info: museisenesi.org
Castiglione d'Orcia
A small, timeless town, immersed in the nature of Val d'Orcia
Castiglione d'Orcia is a small town immersed in the nature of Val d'Orcia, declared a World Heritage Site by UNESCO. It's composed of hills, ravines and the iconic cypress trees that crown the isolated hills or line the roads in orderly rows. The village was first mentioned in historical documents in 714 and was initially controlled by Aldobrandeschi, but became a free municipality in 1252. ...
Morekeyboard_backspace