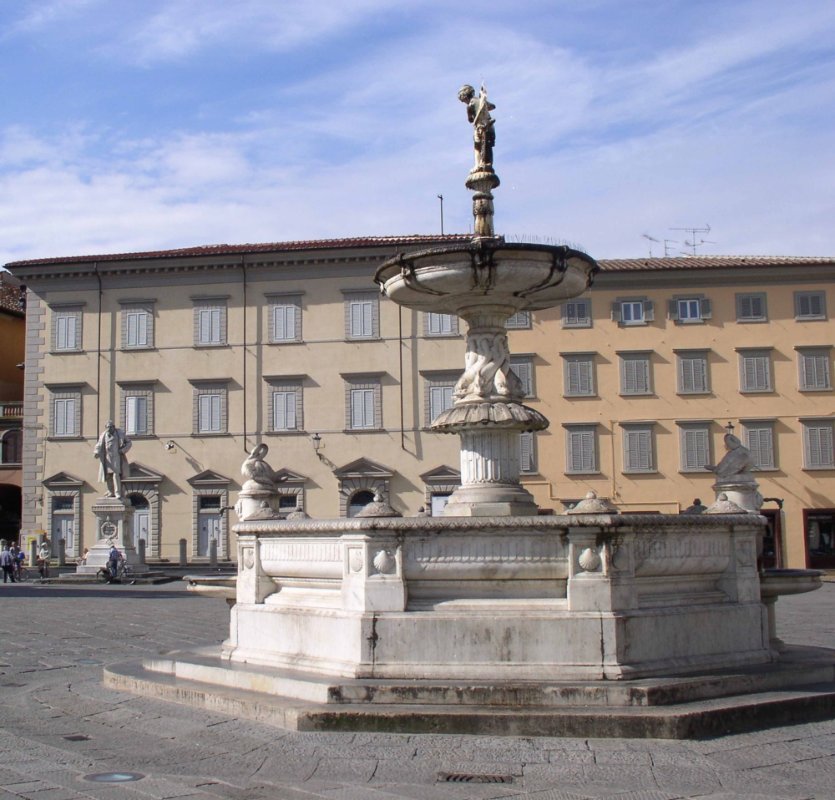 ???.icon?????????
Curzio Malaparte
1950's author of a book on his home town, Prato
'I'm from Prato, I'm happy to be from Prato and if I had not been born in Prato, I would have preferred not to born into this world…' wrote Curzio Malaparte (also known as Kurt Erich Suckert) writer, journalist and diplomat (1898-1957).
He boasted about his native town in his celebrated work, 'Maledetti Toscani', published in 1956. Malaparte's work offered readers an interesting view of the Tuscan identity and attitude, giving a tongue-in-cheek look at the region in the 1950s.
In his chapter on Prato, he describes the glories of Piazza Duomo, calling it 'the most airy and lightest square, perhaps in all of Tuscany.' In the middle, you'll find a stature of Giuseppe Mazzoni, a Mason and one of the most important figures in Tuscany's provisional government in 1849. In the square, you'll also find the pinkish marble fountain, known as the 'Fontana del Pescatorello', called the 'Papero', thanks to the swans that grace its sides. It was designed by architect Mariano Falcini and sculpted by Emanuele Caroni and Ulisse Cambi in 1863.

The Duomo's belltower served as the model for the one created by Giotto, yet Prato's—in cut stone—is simpler. The Duomo complex is Prato's most significant architectural structure and it was cited in historical documents as far back as the X century when the Church of Santo Stefano became the baptismal country church of Borgo al Cornio. Construction of the bell tower began in the 1200s and reached its current height in the mid fourteenth century, just a few years before the church's late gothic façade was built. Said façade was slightly detached from the original structure so to allow one to reach its external pulpit, built by Michelozzo and decorated by Donatello from 1428 to 1438. This pulpit (the original is preserved at the Museo dell'opera del Duomo) is certainly one of the finest masterpieces of the Renaissance. The pulpit allows speakers to reach the entire Piazza del Duomo during the special rite celebrating the Virgin's Holy Cingulum. The pride and joy of the city of Prato, this holy relic is shown to the faithful on Christmas, Easter, May 1 and August 15 every year.
Prato
In the heart of Tuscany, a city of art and prestige
If there is one city that can impress those looking for lesser-known destinations, it's Prato. Considering how the city is presented in the press, visitors will be surprised to discover an elegant and well-preserved historic city centre, as impressive as the most famous Medieval cities dotting Tuscany. ...
Morekeyboard_backspace
You might also be interested in