natureNaturalistic attractions
Cornate and Fosini Nature Reserve
Between Montieri and Radicondoli, there's a massif comprised of steep, chalky cliffs
The Cornate and Fosini Nature Reserve is located on the eastern side of the Metalliferous Hills, in the municipalities of Montieri and Radicondoli, near the springs of the Cecina River. The borders of the protected area, situated between the provinces of Siena and Grosseto, envelope the whole of the long, narrow ridge of the Cornate (1,066 metres a.s.l.) and the nearby Poggio Mutti (808 metres a.s.l.), stretching to the north to include the low hills where the Fosini Castle can be found.
The Cornate is a massif more than 1,000 metres high and is comprised of a series of steep, chalky cliffs. In the meadow that sits at above the mountain, you can find violets and fritillaria.
Of the animals that call the reserve home, there are short-toed eagles, sparrowhawks (birds of prey that populate the cliffs of the Fosini Castle, along with wallcreepers), wildcats, martens, deer, porcupines, weasels and skunks.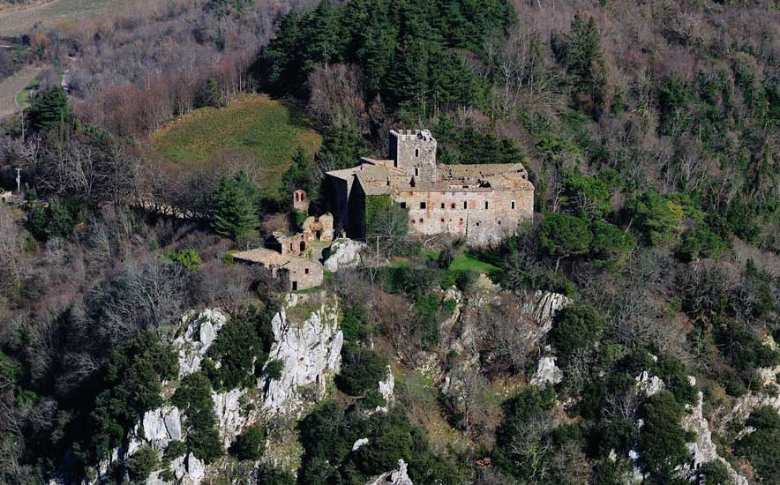 The Reserve also includes the Fosini Castle, red ammonite quarries, where materials were taken to create the famed floor in the Siena Cathedral, and what remains of a silver mine from the 12th century.
The Cornate is considered one of the best places to observe the night sky, thanks to the limited light pollution in the area.
Info: parks.it
Montieri
An area full of small villages in the Metalliferous hills in the Grosseto countryside
Montieri is a village that sits on the slopes of a hill covered by forests of chestnut trees. Its name derives from Mons aeris (Bronze Mountain), a reference to the wealth of mineral deposits in the area. ...
Morekeyboard_backspace