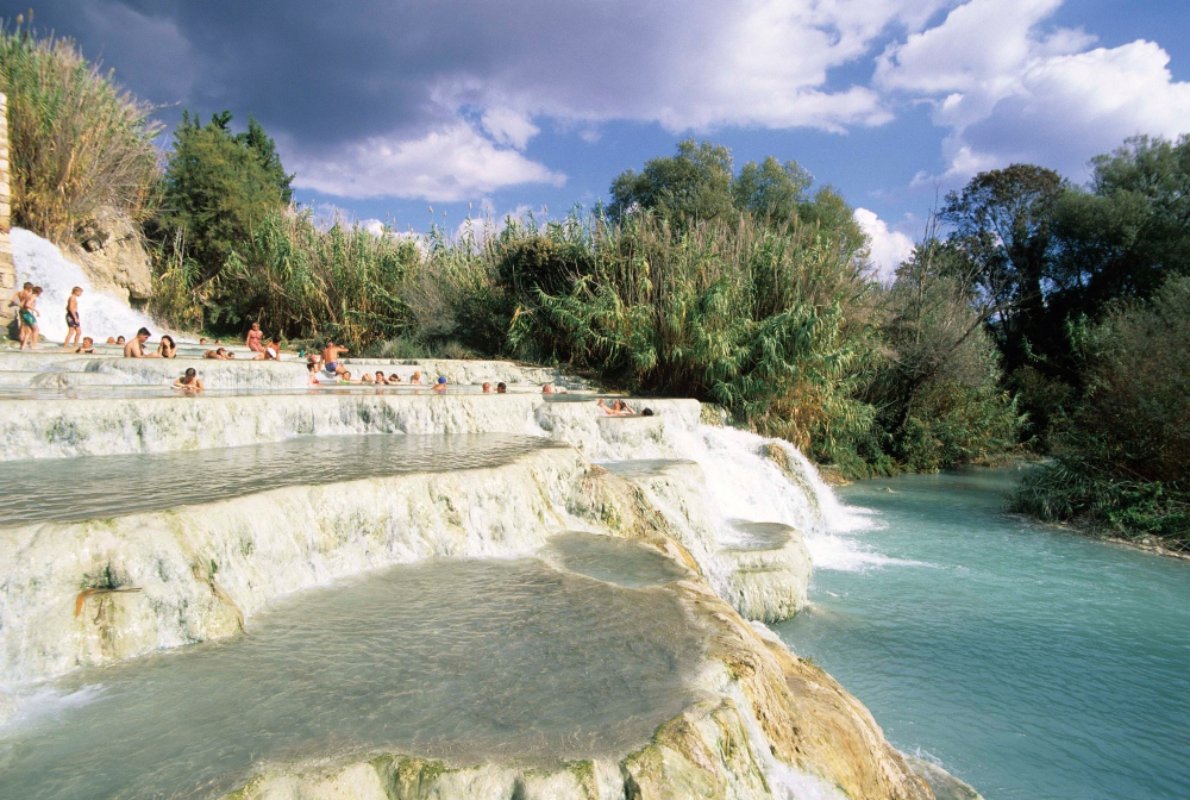 spaRelax and wellness
Cascate del Mulino hot springs
The natural landscape of the sulphur springs
The Terme di Saturnia for decades has represented one of the preferred meeting spots for homosexuals from all over Italy. Located in the municipality of Manciano, near the village of Saturnia, the sulphurous waters that fill pools at 37.5°C are famous for their healing properties.

The principal thermal waterfalls are the Cascate del Mulino, situated by an old windmill, and the Cascate del Gorello. The area that gay tourists prefer is near the large pool above the falls, especially during the evening hours and weekends. For those of you who prefer comfort, there are plenty of thermal facilities to choose from nearby. Entry to the thermal falls is free year round. Don't hesitate to take a plunge even during the harsh winter months; you won't feel the freeze and the surrounding nature is yours for the taking.

Getting to Saturnia: from Rome, take the Rome-Civitavecchia highway until it becomes S.S.1 Aurelia; once past Montalto di Castro pay close attention: precisely at the 111th km (Hotel Vulci), turn right and follow the signs for Manciano, and then, passing through Montemerano, you'll reach Saturnia after 60km. From the north: Milano-Bologna-Firenze highway; exit at Firenze Certosa; from Siena, take the freeway towards Grosseto exit at Roselle (about 10km before Grosseto) and follow signs for Scansano, then Saturnia.

Saturnia
Legend has it that this ancient town was created when the god Saturn flung a thunder bolt to earth
The story goes that one day, Saturn had enough with the men on earth who were constantly at war with one another. He decided to fling a thunder bolt at them which created a huge crater and a spurt of warm, sulphurous water. This water shot into the air and then covered everything, which quietened down the warring populations. ...
Morekeyboard_backspace