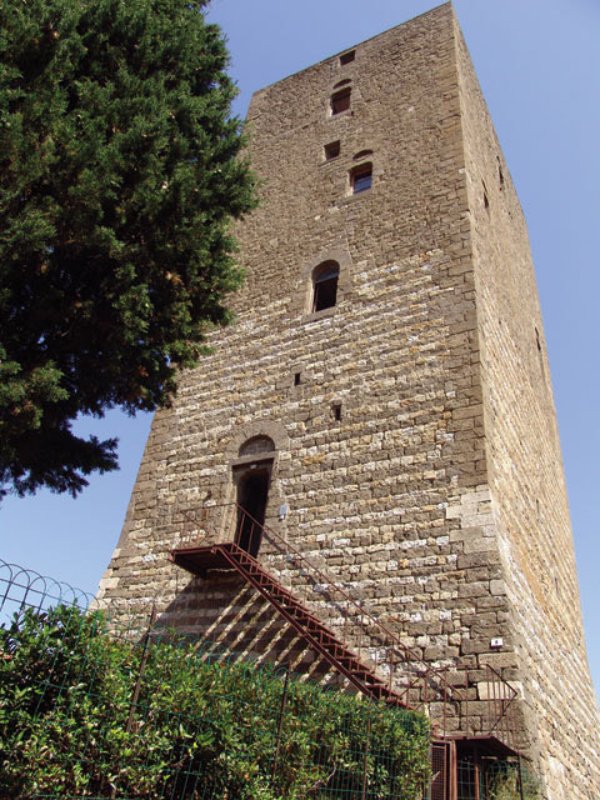 location_cityHistorical Buildings
Belforti Tower, or Civic Tower
The tower is owned by the Jesi Arrighi family and is closed to the public
The Belforti Tower rises in above the village. It is the most significant element of a defensive system which still includes round turrets that were probably part of the circular wall and the road that led to the castle. It is a quadrangular construction dating from the 11th century, with exceptionally thick walls built of black ashlars arranged in strips. Taking into consideration the two and a half metres below ground, the tower can be assumed to have originally measured more than thirty metres in height. The lower portion is characterized by black and white stripes. Now lacking its crenellation, the tower belonged to various Volterran families (Belforti, Pannocchieschi and Inghirami) and was the residence of Volterran and Florentine captains until it passed into the hands of the French barons of Rochefort. Numerous windows and two transverse holes opened by order of the Belforti afford a view extending to the Keep of Volterra and the Rocca Sillana. During World War II the tower also served as a shelter against artillery bombardments. At the end of the 1960s it was restored and is now privately owned.
Via Emilio Jesi, 1
Montecatini Val di Cecina
0588- 30055
Source:
Apt Pisa
Montecatini Val di Cecina
From the medieval centre to ancient mines, an unsual corner of Tuscany
Before the 11th century, the village of Montecatini Val di Cecina was known by the name Monte Leone (Castrum Montis Leonis); this is how it appeared in a bull by Pietro, Bishop of Volterra in 1099. Over the centuries, the territory was a point of conflict between Pisa and Volterra, and was finally brought under Florence's control in 1472. ...
Morekeyboard_backspace
You might also be interested in