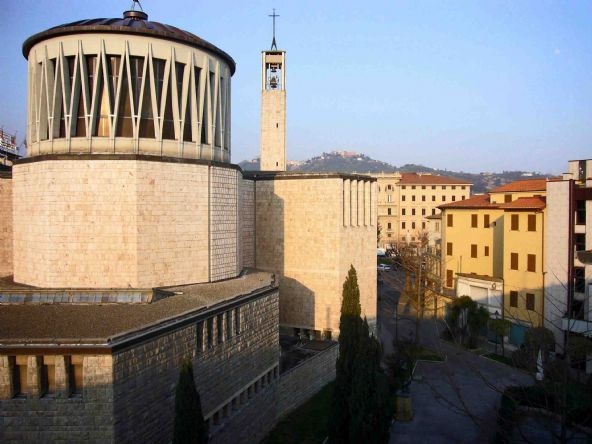 Places of worship
Basilica of Santa Maria Assunta in Montecatini Terme
The church was built in the 1950s atop an earlier building from the 1800s
The Church of Santa Maria Assunta in Montecatini Termewas declared a basilica minor in 1988 by Pope John Paul II. It was designed by Raffaello Fagnoni, Pierluigi Spadolini, Mario Negri and Alfonso Stocchetti. To build it, which took place between 1953 and 1958, the Neoclassical churchby Luigi de Cambray Digny that dated to 1833was destroyed. The original building was preceded by a simple façade with an ionic porch and lightened by a semi-circular window.
Santa Maria Assunta, boasting a slender tower, has an octagonal layout and four chapels beside the presbytery, above which sits a spherical, covered tiburium. The building is imposing for its support structures in reinforced concrete, completely covered in travertine. Also worth mentioning are the windows decorated by the painter Giorgio Scalcoand, at the back of the presbytery, a Crucifixby the Florentine sculptor Sauro Cavallini
Montecatini Terme
Spas and liberty architecture in the Valdinievole Tuscany
Montecatini Terme, located a few kilometers from some of the major Tuscan cities of art and the two main regional airports, owes its fame to the therapeutic properties of its waters, for the refinement of the buildings and for the architectural heritage built around the springs. ...
Morekeyboard_backspace