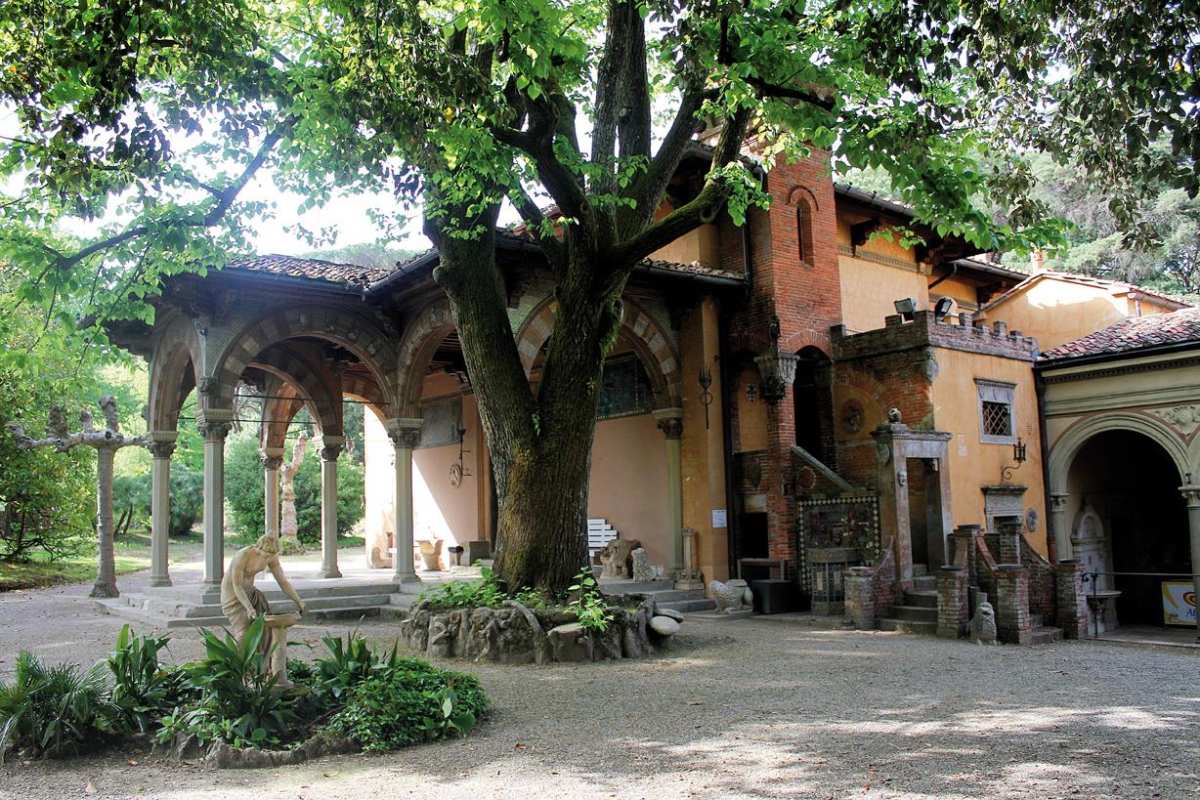 ???/.categories/old/congressi/.icon??????/.categories/old/congressi/???
Terme Tamerici Complex
A delightful building in Montecatini now transformed into an exhibition centre
Montecatini, one of the centres of Liberty-style architecture in Tuscany, apart from Viareggio, is home to many pieces dedicated to the work of Galileo Chini and the Ceramics Museum. The Terme Tamerici, which takes its name from the plants that were found in the hot spring in 1843, is one of the places that best conserves the memory of the artistic movement that bestowed this city of hot springs with the unmistakable architectural profile inspired by Art Nouveau.
Originally belonging to the Schmitz family, who used the spring, the resort was renovated in 1909 under the direction of the architects Giulio Bernardini and Ugo Giusti, with the collaboration of Galileo Chini. On the façade of the building, whose entrance was taken from the pre-existing homestead, a large bronze eave stands out, decorated with floral motifs. The building boasts stained glass windows and skylights, as well as ceramic and stoneware decorations, many of which were designed by Galileo Chini.
The most characteristic room in the entire complex is the Sala della Mescita, for which the Mugello-born artist designed the tiles on the floor and walls, which attest to the high level of artistic skill demonstrated by Chini and his collaborators in this period. Amongst the most interesting elements at the Tamerici are the decorations in the circular pavilion, with its small dome adorned with wrought-iron arabesques, which it's said inspired the pavilion at the famous Villa La Capponcina in Florence, the historic residence of Gabriele D'Annunzio.
On the building's façade, there are four low-reliefs made by the sculptor Domenico Trentacoste, from Palermo, which were presented for the first time in Turin at the Italian Exhibition of Decorative and Industrial Arts in 1902 and which marked the Italian beginning of a material unknown up until that point, stoneware.
Montecatini Terme
Spas and liberty architecture in the Valdinievole Tuscany
Montecatini Terme, located a few kilometers from some of the major Tuscan cities of art and the two main regional airports, owes its fame to the therapeutic properties of its waters, for the refinement of the buildings and for the architectural heritage built around the springs. ...
Morekeyboard_backspace