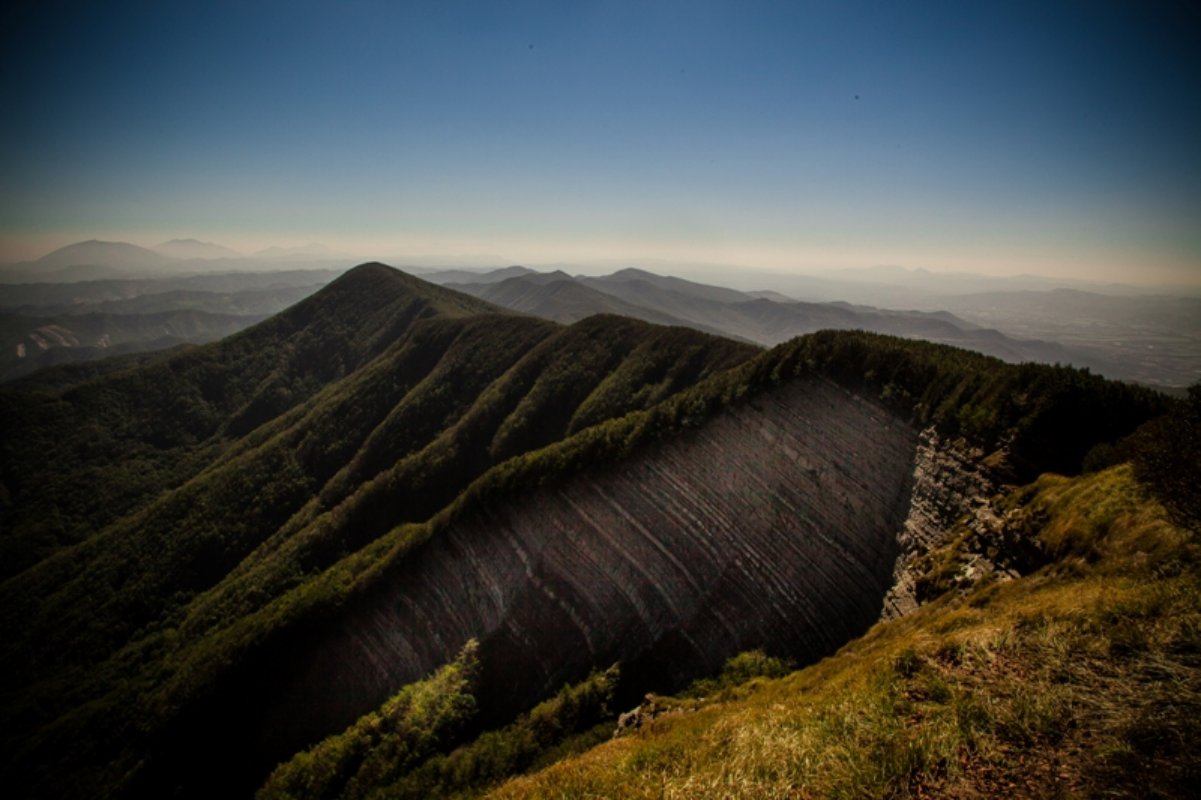 natureNaturalistic attractions
Alpe della Luna
The Mountain of the Sublime Piero
Amidst silent hamlets and wood-clad crests in the Nature Reserve of the Alpe della Luna, you can rediscover the secluded and mysterious places that five centuries ago inspired the sublime art of Piero della Francesca. The most imposing "moon" is a 200 metre-high ravine of marl and sandstone, almost vertical and most impressive. Seen from the hills of Sestino and Badia Tedalda, the Ripa della Luna has the shape of a sickle. Was this the form which inspired the enchanting name of the mountain? Or was it the shape of the crest? Or yet again the rituals dedicated to the moon which appear to have been held here in very ancient times?

All around the Ripa the slopes are covered with dense and spectacular vegetation made up of ancient beech trees, where you will be surprised to find holly trees and coloured carpets of crocuses, cyclamens and matgrass. In autumn you can immerse yourself amidst the colours of the leaves of the beeches and maples, in the fragrance of the rowans and the calm of the alders. In the peace and silence of the woods fallow deer, red deer and roebuck graze in the grassy meadows, while birds of prey such as the hawk and the majestic golden eagle circle in the sky above.

In the Reserve you can also find other "moons", less dramatic but equally suggestive. For example there is the fumitory, a very showy little plant with small violet flowers, boasting purgative and diuretic qualities, which has a special relation with the 'planet of the night'. The formation of its active principles follows the phases of the moon and is completed with the full moon. In late spring the meadows are home to the purple flowers of the moonwort, or honesty, the round-shaped fruits of which have given the plant its name; once dried these are popularly known as "medaglioni del Papa" (Pope's medals – money plant). At the feet of the Alpe, not far from the borders of the Reserve, the erosion of the waters has carved out of the sandstone a sparkling waterfall in the vicinity of the Sasso Spicco, which here forms a natural shelter. According to the legend, St. Francis would come down here from the hermitage of Montecasale to sing the praises of the Creator in the moonlight.
Badia Tedalda
A SMALL TOWN BETWEEN TUSCANY, EMILIA-ROMAGNA AND MARCHE, A DESTINATION FOR PILGRIMS AND MONKS OVER THE CENTURIES
The town of Badia Tedalda sits at the crossroads between three regions: Tuscany, Emilia-Romagna and Marche, along a stretch of pilgrimage road leading to Rome that was used over the centuries by monks, pilgrims and wayfarers. The small town center has maintained its mountain village charm and is centered around the Church of St. ...
Morekeyboard_backspace
You might also be interested in