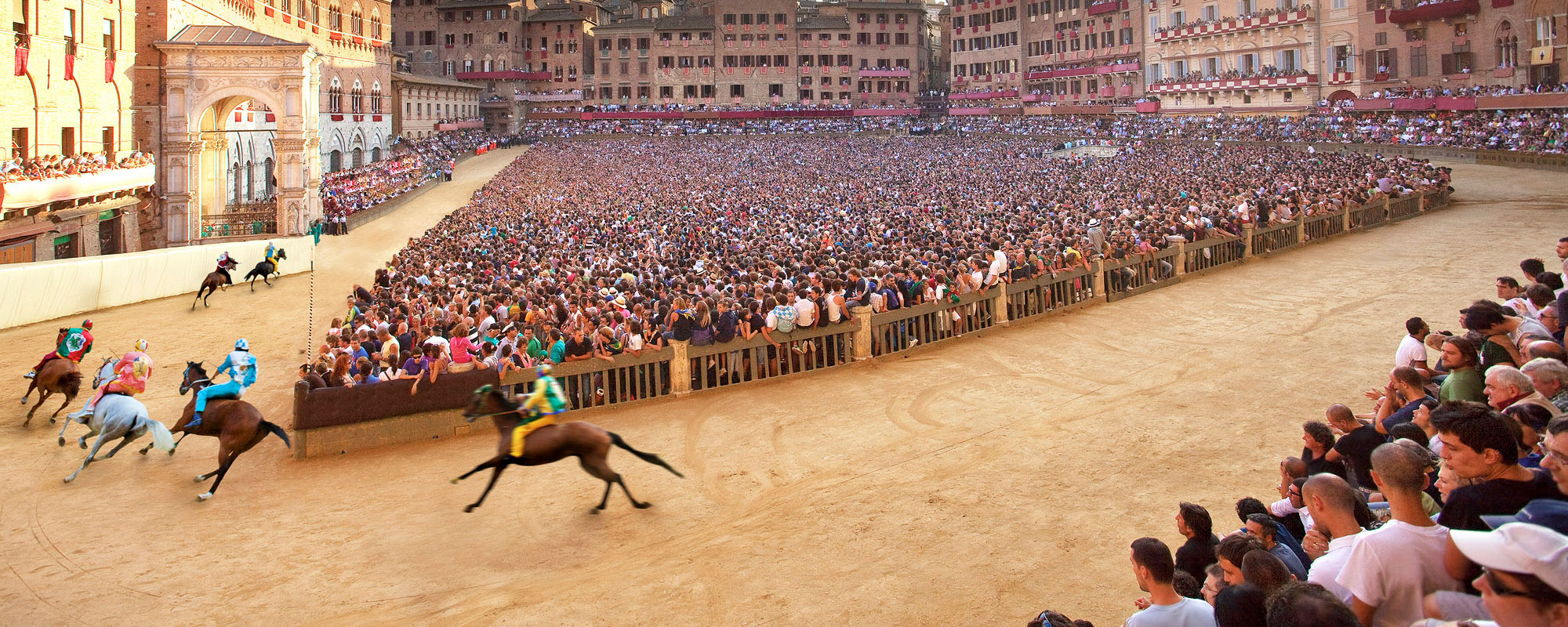 Boasting centuries-old origins, the Palio di Siena is Italy's most famous historical horse race. It takes place twice a year in piazza del Campo, Siena's main medieval square: on July 2 and August 16.
The Palio is a huge tradition that lasts a total of four days, from the warm-ups on the morning of June 29 until the races on July 2 (Palio della Madonna di Provenzano) and again from August 13-16 for the Palio dell'Assunta.
The race consists of three laps of the piazza del Campo, on a track made with a mixture of sand and 'tuff'. The starting point is the Mossa, formed by two ropes where the 10 participating horses and jockeys must wait in order –determined by drawing lots. The winning jockey is the one whose horse, with or without jockey, firstly completes the three laps.
Since 1633, year in which the first Palio was run, the race has for centuries been a competition among the city's districts, called contrade. But more than a race, it's a passion for the Sienese people and part of their lives, in fact each person in town belongs to a Contrada and participates all year round in the organization of the event. The Contradas are agonistic institutions each having their own government, oratory, coat of arms, festivities, patron Saints and population which consist of all those people who were born or live within the topographic limits of the district.
The Palio prize is the so-called Drappellone, a large painted silk canvas designed and created each year by a different artist.
Siena
Where not a single stone has changed down the centuries
Siena shines perfectly from a distance in its medieval magnificence. The three hills amid which the city rests rise up like an idyllic film set, the old boundaries soften like the past into a countryside that sometimes still seem like the scene painted by Ambrosia Lorenzetti in the Allegory of Good Government in the halls of Siena's city hall. ...
Morekeyboard_backspace