Wine, olive oil and honey
Vernaccia di San Gimignano
Ancient wine road leads the way to flavor
Category
Wine, olive oil and honey
Consortium
Consorzio della Denominazione di San Gimignano
The Vernaccia di San Gimignano represents one of the milestones of Tuscan wine-making, the first national wine to be conferred the Denominazione di Origine Controllata, (Appellation of Controlled Origin) in 1966 (DOC, becoming then also 'Garantita' (Guaranteed), or DOCG, in the summer of 1993).

The Vernaccia is a very common grape spread across many wine-growing areas of the peninsula, from Liguria to Sardinia, passing through the Marche: very probably, its name derives from the Latin term vernaculum, which meant 'native', 'of the place' an aspect which certainly does not help to retrace the effective area of origin.

Etymological thesis aside, there's no doubt that the Vernaccia has found in the countryside around San Gimignano, in the Siena area, an ideal place to develop fully its characteristics as a variety, revealing at the same time a notable capacity for aging. Something to be emphasised at least, given that we are only dealing with a white wine.

With a pleasant floral and slightly fruity scent and a bitterish aftertaste which is to a certain extent the distinctive sign of this variety of vine, the Vernaccia forms a good accompaniment not only to fish and seafood dishes but also to white meat such as chicken and rabbit, without spoiling the presence of slightly matured cheeses.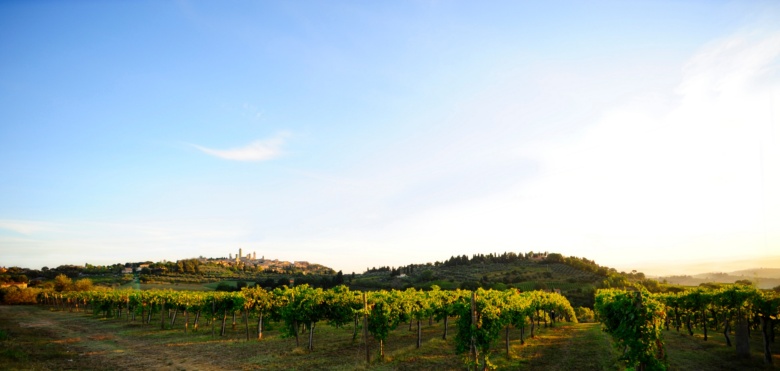 Vernaccia di San Gimignano, measured at not less than 90%; can be put together with grapes from other varieties of non aromatic white grape vine, recommended and/or authorised by the Province of Siena, up to a maximum of 10%.

More info: www.vernaccia.it
You might also be interested in
Terre di Siena
The Siena area (known as the "Terre di Siena" in Italian) is the scenic countryside surrounding Siena, which continues to entice travellers with its beauty just like the times of the Grand Tour. ...
Scopri Terre di Sienakeyboard_backspace