Bread, pasta and legumes
Pine nuts from the Migliarino – San Rossore Park
A certified product from the pine forest in the park
Category
Bread, pasta and legumes
Origin
Migliarino – San Rossore Park, province of Pisa
The off-white pine nut has an oblong shape and it is contained in a shell covered with black-violet powder. It comes from domestic pine, a plant typical of southern Mediterranean countries.
Pine nuts from the Migliarino, S. Rossore and Massaciuccoli Park is a certified organic product and the area of production coincides with the entire expanse of the park.
The pines are harvested when the cones are still closed, then they are left in the sun to open naturally. The pine nuts are selected, peeled and dried.
The product is available all year round and is used in cooking and baking. For example, they are used in torta co'bischeri, torta della nonna, rustic tortelloni and castagnaccio.
You might also be interested in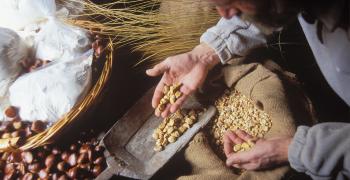 Learn more
Food and Wine
Olive oil, wine, truffle and other culinary delights make up the excellence of Tuscan gastronomy.
continue...