Cheese and cold cuts
Mortadella from Camaiore
Its taste, its smell and its preparations make this product so special
Category
Cheese and cold cuts
The mortadella made from the pigs of Camaiore, also called sbriciolona, is a salami typical of the Versilia. The careful processing of the meat has made it well known and appreciated beyond the borders of its production area. With a sweet and delicate taste and fragrant smell, it has the typical salami shape, dark colour and a soft consistency. Selected meats of loin shoulder, coppa and pork belly are used, and spices such as salt, pepper, fennel seeds, cinnamon and cloves are added. The meat is mixed with pieces of hard fat, kneaded by hand and encased in a natural intestine with a tight binding. The product is then left to mature for around a week in an aerated environment and then to mature in a place adapted to the weight of the mortadella. The actual production is destined for local and regional consumption. It is produced in some salami shops in Camaiore and Massarosa.
You might also be interested in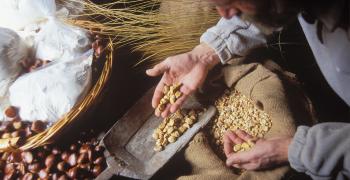 Learn more
Food and Wine
Olive oil, wine, truffle and other culinary delights make up the excellence of Tuscan gastronomy.
continue...