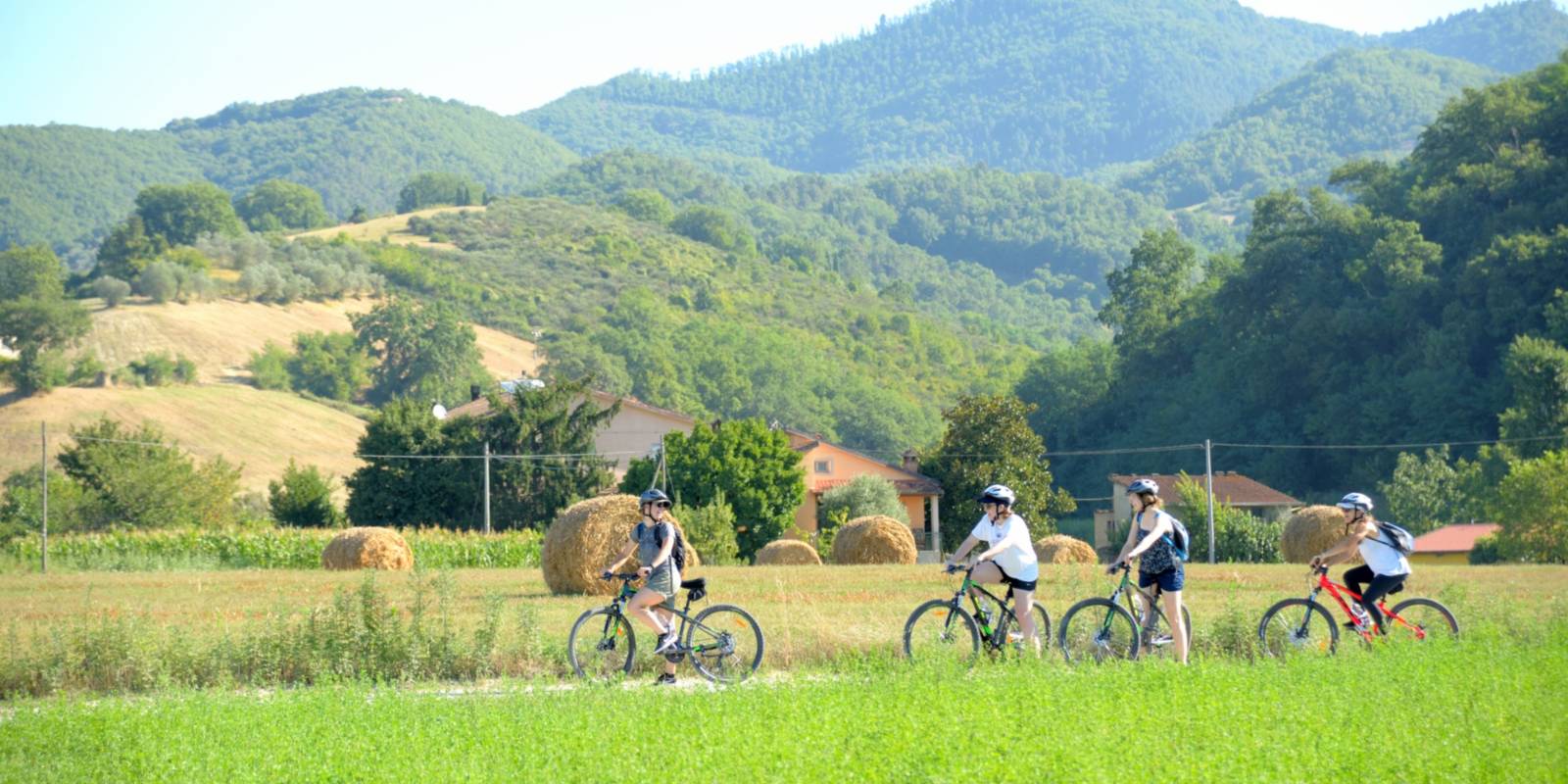 directions_walkTours
info
Important information:
The deals are subject to extraordinary measures adopted by the Italian Government to contain the Covid-19 epidemic. Please contact the operator for more information. For further information on the situation in Tuscany Stay updated
here
Countryside bike tour In Mugello with saffron tasting
Enjoy a bike tour in the Tuscan countryside and discover the saffron's secrets immersed in the atmosphere of this family-owned farmhouse of Mugello.
After a short walk into the small village of Vicchio and around its beautiful lake, begin your ride into the countryside, away from traffic.
Along the way you'll meet a Romanesque Church, a Villa from the Medicean era, and see the home of Giotto, always surrounded by nature and the typical Tuscan landscape.
Halfway through the ride, you'll stop at a saffron farm. Take your time to sit immersed in the magic atmosphere of this family-owned farmhouse. Meet the local farm animals, see the bee hives and vineyard, and taste some delicious saffron-flavoured products (honey, cheese, biscuits, beer, herbal tea), while the owners show you how to grow saffron.
Level of difficulty: BASIC
Length: 15 Km (9 miles)
Elevation gain uphill: 100 m (300 ft)
Surface: paved road, unpaved road
Duration: 3hours
You can easily reach the meeting place by train from Firenze S.M.Novella station to Vicchio (about 50 min scenic journey through the countryside). Ask me for the train schedule. Ask me for any information or special request you need.
When
From 29 March 2020 to 12 September 2020
start 10:00 end 13:00
start 17:00 end 20:00


From 13 September 2020 to 24 October 2020
Tuesday, Wednesday, Thursday, Friday, Saturday, Sunday start 10:00 end 13:00
Tuesday, Wednesday, Thursday, Friday, Saturday start 15:00 end 18:00
From 25 October 2020 to 31 January 2021
Tuesday, Wednesday, Thursday, Friday, Saturday, Sunday start 10:00 end 13:00
Tuesday, Wednesday, Thursday, Friday, Saturday start 14:00 end 17:00
From 01 February 2021 to 27 March 2021
Tuesday, Wednesday, Thursday, Friday, Saturday, Sunday start 10:00 end 13:00
Tuesday, Wednesday, Thursday, Friday, Saturday start 15:00 end 18:00
From 28 March 2021 to 12 September 2021
Tuesday, Wednesday, Thursday, Friday, Saturday, Sunday start 10:00 end 13:00
Tuesday, Wednesday, Thursday, Friday, Saturday start 17:00 end 20:00
Prices include
Guided bike tour in the Tuscan countryside
Bikes and helmets
Bottle of water
Guided tour of the farm
Tasting of saffron-flavoured products: honey, jam, cheese, biscuits, herbal tea
Supplemental charges
Pickup, train and bus ticket
Meeting point
Vicchio, Piazza Giotto - near the statue
Plan
Before we hop on our bike, let's explore the small village of Vicchio and around its beautiful lake
Then, it's time to begin our ride into the countryside, away from traffic
Visit a local farm and discover how saffron grows
Taste some delicious saffron-flavored products: honey, jam, cheese, biscuits, herbal tea, etc
Discover the place where the great painter Giotto lived in the 13th century
End tour at the village of Vicchio
Cancellation
and no-show policies
Organization
mugellove
viale giuseppe mazzini, 50
vicchio