account_balanceMuseums
Geothermics Museum in Lardarello
A fascinating journey through history and technology
The Geothermics Museum is located in the Villaggio Enel Green Power in Lardarello, in the municipality of Pomarance, the world capital of geothermics: the completely renovated building boasts tons of technological and multimedia content and is open to schools, scholars and anyone interested in learning about the geothermic phenomenon and its multiple facets, from the history of geothermics in the chemistry field to the electrical industry to its uses for heat.
The first room of the Museum welcomes visitors with an explanation of all the types of renewable resources and the work of Enel Green Power in Italy and the world. After the introduction, the second room addresses the science's history, with the first historical signs of geothermics, the Etruscan and Roman thermal baths and a copy of the Tabula Peutingeriana dating to 70 CE, which speaks of the thermal waters in Volterra and Populonia.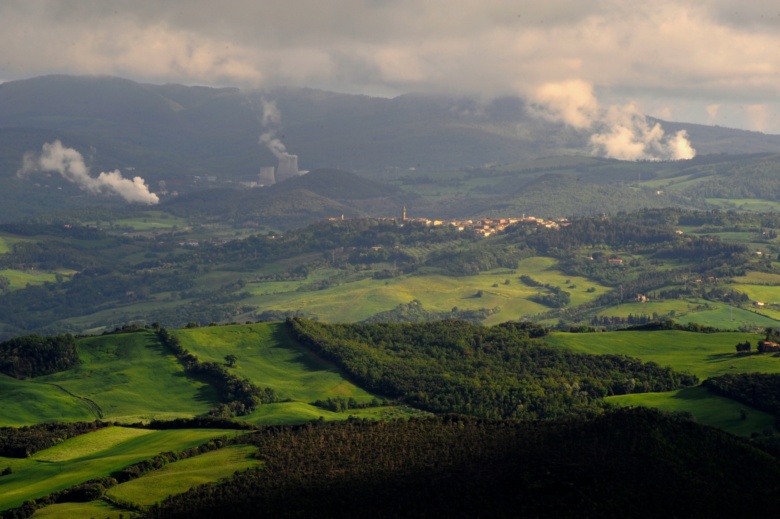 The following rooms get to the heart of the history of geothermal energy, with the 1777 discovery of boric acid in Lagone Cerchiaio, near Monterotondo Marittimo, by Uberto Francesco Hoefer from Cologne, the subsequent beginnings of chemistry by Count François de Larderel and the first five lightbulbs powered in 1904 thanks to the intuition of Prince Ginori Conti.
The museum has a space dedicated to drilling, referenced in the 1841 treatise of the Accademia dei Georgofili, which dates the first drilling activities to 1838.
Visitors can also take a journey to the center of the earth, a spectacular experience in the 3D room that brings visitors on a virtual descent into the bowels of the Earth, where energy is formed and geothermics originates. The exhibition ends in the rooms dedicated to the history of geothermal energy to today.
Info: museivaldicecina.it
Pomarance
In the centre of Val di Cecina this enchanting little village houses the power plant of Larderello
Named 'Ripomarancia' until the sixteenth century, then 'Ripomarance' or 'Pomarance', this village was at the centre of a juridical dispute bewteen bishops and the Commune of Volterra. At the centre of Val di Cecina, on the spur that separates it from the valley of the Trossa torrent, Pomarance has been transformed from a mediaeval village into a modern little town. ...
Morekeyboard_backspace
You might also be interested in