account_balanceMuseums
The Etruscan Academy Museum
Explore the history of Cortona at this museum
This museum is home to both the historic Etruscan Academy Museum and the Museum of the Etruscan and Roman City of Cortona. The museum is housed within Palazzo Casali, one of the city's oldest and most notable buildings where an exhibiting space of over 6500 square feet accommodates some of the most extraordinary masterpieces produced by the Etruscan civilisation. The upper floors of the museum house the older collections of the Etruscan Academy that trace back the history of Etruscology and the art of collecting to their very roots in the 18th and 19th century and feature masterpieces including an exceptional Etruscan Lamp, a stunning collection of small bronzes, the Egyptian section and an 18th century library.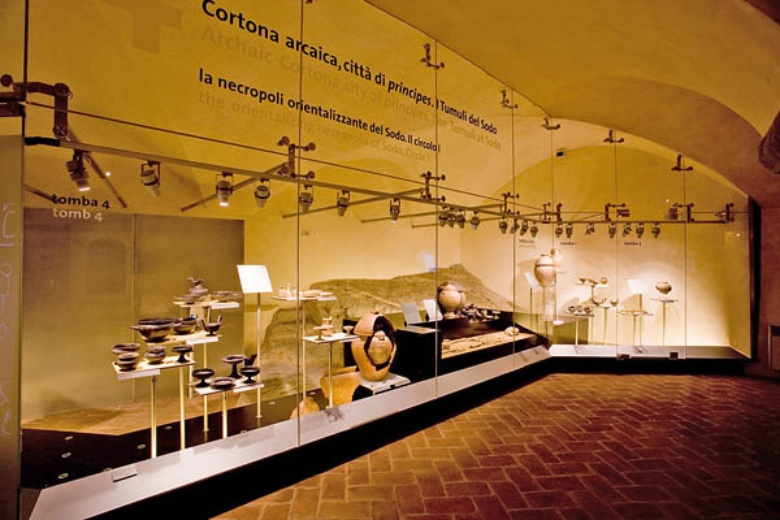 On the lower floors a rich exhibition of Etruscan and Roman finds housed in the newer exhibiting spaces guide the visitor through the history of the Etruscan and Roman settlements of the territory: the bronze masterpieces from Trestina and Fabrecce, the funerary equipment from the archaic burial mounds in the Cortona plains, the celebrated Tabula Cortonensis and the materials from the Roman villa in Ossaia. The new Etruscan Academy Museum of the City of Cortona also acts as a reception and information point for visitors of the city's budding Archaeological Park and its 11 archaeological sites including the second Tumulus (burial mound) of Sodo, an imposing archaic burial (6th century B.C.) featuring a monumental stairway decorated with large sculptural groups. Both the museum and the archaeological park will make your stay in Cortona memorable and rich in history and culture.

Source: cortonamaec.org
Cortona
The foundations of the city have been lost in legend
As far as the Florentine ruling class was concerned: to increase the value of the vast territorial consistency of Tuscany, like ancient Etruria, as well as the antiquity of all of its most famous cities since primordial civilisations immediately after the Great Flood, with the aim of obtaining for that territory and for those cities the recognition of Grand Duchy and the title of Grand Duke ...
Morekeyboard_backspace
You might also be interested in