Places of worship
San Pietro Apostolo Church in Radicofani
It cherishes some Andrea Della Robbia's terracotta masterpieces
San Pietro Apostolo is the main church of Radicofani. It's one of the most interesting examples of Romanic-Gothic building in the Val d'Orcia and unfortunately underwent some big restauration activities, especially in 1946, to repair the huge damages of the Second World War.
Its façade made of stone, placed on a large staircase, is simple and has a double-arched window at the top of a 13th century gate. On the left, there's the church of Santa Maria Assunta while on the right there's the Corpus Domini oratory. In front of it, you can see the Sant'Agata Church.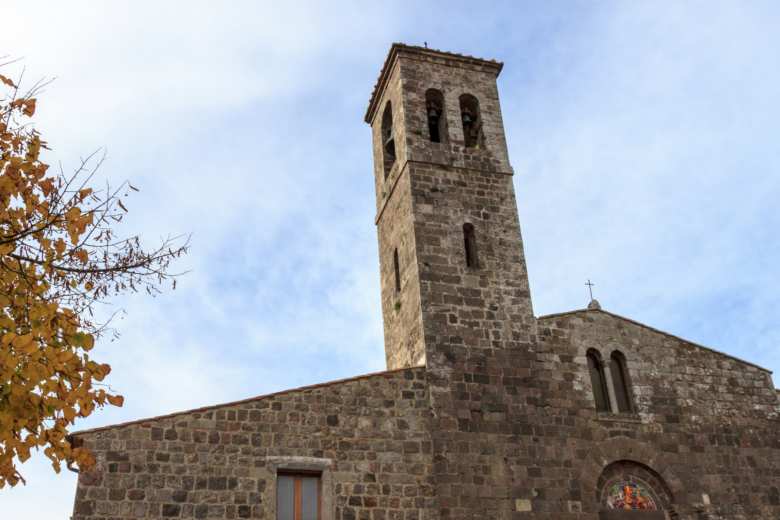 On the inside, there's a single nave and many glassy terracotta masterpieces made by Andrea Della Robbia. Some of them, dated to the first half of 1500, are: La Crocifissione con Santa Maria Maddalena, la Madonna col bambino in trono e i santi Michele e Caterina, la Madonna con Sant'Antonio Abbate e Giobbe. Moreover you can see some wooden statues in Michelangelo style and the "Madonna col Bambino" made by Francesco di Valdambrino. In the garden of Maccione, before the church, there's a statue representing Ghino di Tacco, the gentleman bandit.
Radicofani
From the top one of the most spectacular fortresses in Tuscany
On a hill at the southern border of the Val d'Orcia sits Radicofani, one of the most spectacular fortresses in Tuscany which has been a hugely important stronghold in Italy for centuries. The Fortress can be seen from dozens of miles away and seems to loom over the village with the grandeur of those who have controlled the border between the Grand Duchy of Tuscany and the Papal State for ...
Morekeyboard_backspace