Hamlets, districts and squares
Montefegatesi
A small medieval village among the peaks of the Tuscan-Emilian Apennines, the highest place in the area and where a monument dedicated to Dante can be found
Montefegatesi is a small village with ancient origins located in the highest part of the Municipality of Bagni di Lucca, a town known for its centuries-old thermal baths.
The unusual name of the village is probably due to the liver red color that's characteristic of the geological formation on which it's located. According to other sources, however, it derives from the name of the Fegana stream that flows at the foot of the mountain.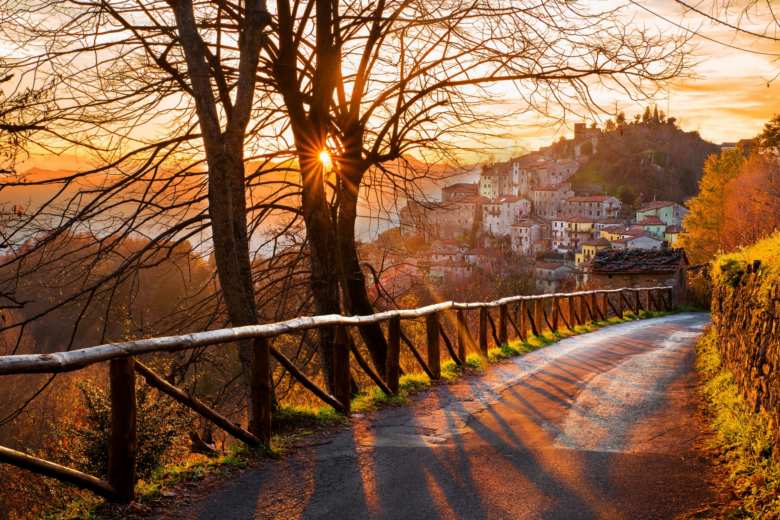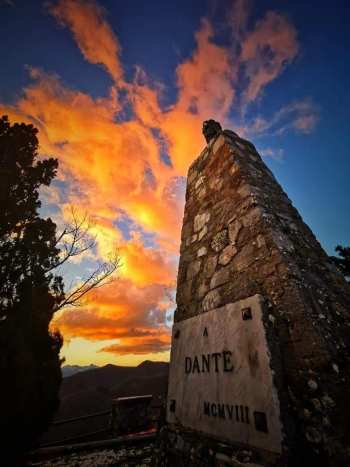 In addition to being the gateway to the Orrido di Botri Nature Reserve, the typical medieval village offers significant points of interest. Among the best known is undoubtedly the monument dedicated to Dante Alighieri by the Lucchese sculptor Francesco Petroni circa 1908. Set on a pedestal of jasper blocks on the summit of the fortress, the austere bust of the great poet stands out in this location that boasts a breathtaking view of the most inredible peaks of the Tuscan-Emilian Apennines: Rondinaio, Tre Potenze and Mosca.
Legend has it that Dante passed through Montefegatesi to escape Florentine assassins and while he was crossing the Orrido di Botri, he got his inspiration for hell. In actual fact, the statue was commissioned by locals as a symbol of their thirst for knowledge and their dedication to reading the great classics, an open mind due to the history of emigration that the town had with America. It was thanks to the money raised by emigrants that the monument to Dante was erected. It was originally intended to be dedicated to the philosopher Giordano Bruno, but for religious reasons the locals preferred it to be dedicated to the poet.
Beyond the statue and the panorama, in the village you'll find the parish church dedicated to San Frediano Vescovo dating back to the 13th century, in whose sacristy there are two valuable 15th-century Florentine school panels.
Montefegatesi, except for a short period when it fell into the power of the Florentines, remained under the protection of Lucca and the Guinigi, annexed to the vicar of the Val di Lima. The village was located in a strategic area, the sentinel of the Lucca republic of the Modenese border. Even today, it dominates the valley that's crossed by the Fegana stream, into which flows the waters of the Pelago river, and what forms the Orrido di Botri.
Bagni di Lucca
A thermal centre famous across the whole of Europe, where the flowing water has healing properties
Most likely dating back to Ancient Roman times, the Bagni di Lucca thermal springs acquired great renown in the 11th century at the time of the countess Matilde di Canossa and became one of the most elegant thermal spas in Europe in the 19th century. ...
Morekeyboard_backspace