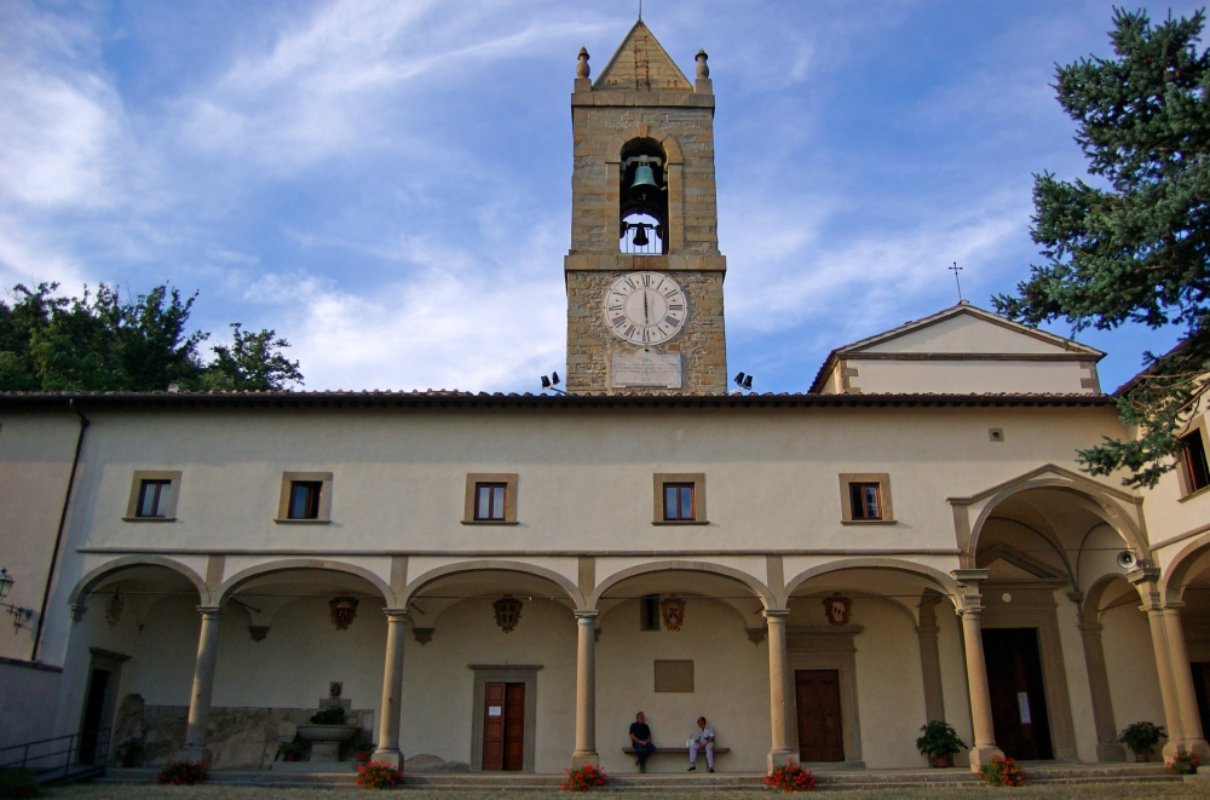 Places of worship
Madonna del Sacco Sanctuary
A spiritual gem in Pontassieve
In a scenic location facing the Valdarno and the Val di Sieve, you'll find the oratory-sanctuary of the 'Madonna del Sasso', an extraordinary devotional complex characterized by its profound history. In the high Middle Ages several of the area's grottos where chosen to serve as hermitages and in one particular tabernacle built during this time, the Blessed Virgin appeared to shepherd girls various times between 1484 and 1485. A small oratory was built in response to these miraculous events and it was soon replaced by a larger construction at the end of the fifteen century. The complex was surrounded by a wall at the end of the 1500s and in the seventeenth century, a beautiful loggia was built to protect pilgrims.

Once inside the Sanctuary, visitors will want to move closer to the low side wall and catch a glimpse of the noteworthy panorama. One corner of the loggia opens onto the High Oratory. At the far end of the church, you'll find the main altar (1504 c.), attributed to a student of Sansovino. The altar was modified in 1702 with the addition of side columns and the expansion of the central niche. Next to said niche, you'll find two additional niches hosting wooden statues representing Eletta Ricovera, one of the shepherd girls and her father, who was present during the first apparition. The stone where the shepherd girls first saw the Madonna is located under the main altar. To the left, you'll see the chapel of the ancient Pius Union of the Holy Name of Mary, founded in 1710. Several noteworthy paintings can be found inside the church such as Vignali's 'Madonna with Saints' (1621) and Velio's 'Crucifixion', painted in 1600. The stairway leads to the Lower Oratory hosting the venerable image of the 'Madonna delle Grazie', the 'Tabernacle of the Hermit', 'the Stone of the Apparition' and the Cell of S. Andrea.
Pontassieve
Along the Renaissance loop, the town's attractions include iconic bridge and a nature reserve
The town of Pontassieve, located at the spot where the river Sieve flows into the river Arno (and which is named after the famous Medici bridge built in the same place in the 16th century, was founded thanks to Florence's decision to establish a castle there in the 14th century. ...
Morekeyboard_backspace
You might also be interested in