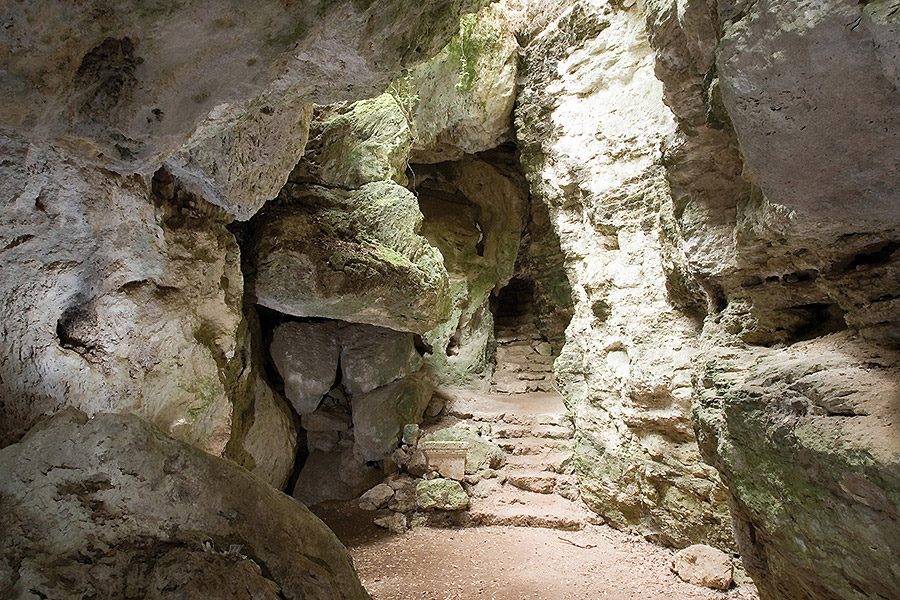 Archaeological sites
Civic Museum of the Prehistory of Mount Cetona and Belverde Archeological - Natural Park
Recounting the history of human existence since the Palaeolithic era
The Civic Museum of the Prehistory of Mount Cetona is found inside the Palazzo Comunale (Town Hall) in Cetona and depicts the history of the oldest phases of human existence in the area, from the Palaeolithic era to the Bronze Age. The museum tour, organised in an informative manner, first shows the material found during the most recent excavation methods, displayed next to the evolution of the landscape of the Cetona area based on geographical and paleontological evidence.
Right next to the museum is the Belverde Archeological - Natural Park, where you can visit many of the sites where the artefacts in the exhibition were found. Here you can visit the caves where blocks of travertine (limestone) have formed over the course of the millennia and where people in ancient times lived. Archaeological research has revealed that some were used as places for burial and worship. For example, the use of the Lattaia Grotto as a sacred place was proven by the discovery of offerings from the Hellenistic period, such as models of children in swaddling clothes, anatomical ceramics (breasts), miniature vases and bronze coins.
Named after the saint who lived there, the Grotta di San Francesco is the largest of all the caves. Along the trail which leads to the Franciscan hermitage of Santa Maria, you can go through three adjoining caves: Antro della Noce, Antro del Poggetto and Tombetta della Strada, where traces of human presence in ancient times have been found.
Info: preistoriacetona.it
Cetona
A medieval hilltown and important archaeological site in the Sienese Valdichiana
Sitting on the slopes of the mountain of the same name, Cetona retains the typical structure of a medieval hilltown, with little streets and alleyways that twist and spiral up to the citadel. The Touring Club has awarded the town the coveted orange flag in recognition of its historical, cultural and environmental heritage and its suitability for tourists.
Morekeyboard_backspace