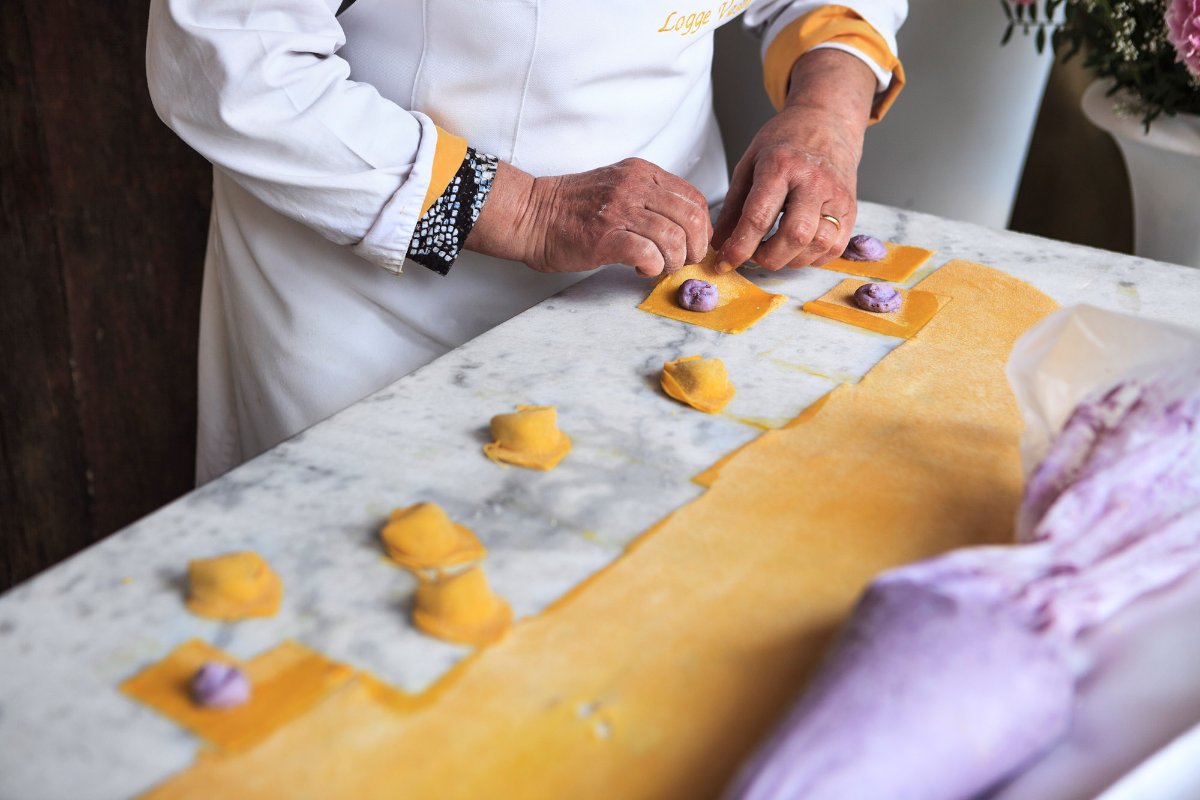 ??????
Necci - Chestnut Pancakes
Extended chestnut groves can be found in many parts of Tuscany and whilst some dishes like the
Castagnaccio
(a chestnut flour cake) can be found all over Tuscany, others have remained indigenous to a particular area. Ask my Tuscan mother-in-law about
Necci
and you'll be surprised to hear that she doesn't know what you are talking about. My mother-in-law has lived her whole life close to Monte Amiata in Southern Tuscany; an area where chestnuts have been a staple for centuries. Therefore they are eaten roasted, boiled and in many other ways. Just never in the form of Necci. It was only when I met Francesca, a winemaker who moved from Pistoia in the North of Tuscany to Cinigiano in the South, that I met my first Necci maker. Francesca is a fabulous cook and a true guardian of local tradition. She wouldn't have moved house without bringing along her set of
testi
, the cooking tools used to cook Necci. The testi are in fact the modern approach to Necci making. This is how they look: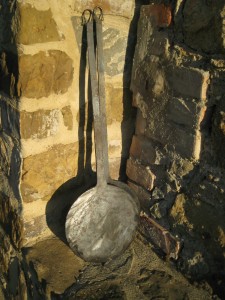 I know what you think. This is the modern approach? I agree, the
iron-cast testi
have a rather ancient air to them. People like you and me, who've grown up heating their milk in a microwave, can't quite spot the high-tech kitchen tool in them. Nevertheless they definitely represent a streamlined approach to the art of Necci making. The old-fashioned way was much more complex. In fact it is surprising to see how such simple a dish (the batter is made up of nothing more than chestnut flour, water and a pinch of salt) can be based on such an elaborate way of cooking. In the past flat terracotta or stone dishes were heated up in the open fire. Once hot they were covered with chestnut leaves before the Necci batter was spread on them. Another layer of
chestnut leaves
covered the batter and another stone dish was used to cover the mixture. This was repeated a few times so as to store the hot stone dishes in a stack near the open fire. The leaves add taste to the dish but also leave a beautiful imprint on the cooked Necci.
Colognora's Museo della Castagna
provides a lovely photo guide of the procedure on their recipe page (scroll down and double click the first photo on their page for a better view). With the complex technique involved it becomes understandable why the Necci, originating in the mountainous areas north of Lucca and Pistoia, didn't take the rest of Tuscany by storm. The locals still tell the tale that famous Italian inventor Alessandro Volta assembled his first battery after observing the intricate Necci making procedure. Looking at the pictures they do seem related.
Ingredients:
2 cups of fresh chestnut flour
1 cup of water
A pinch of salt
Preparation
Mix ingredients until you get a smooth batter. Cook in a non-stick frying pan the way you'd cook a crepe with the difference that the Necci batter is slightly denser. Grease pan with olive oil for each Necci. Fill with a dollop of sheep-milk ricotta and honey. Necci are also eaten as a savoury dish with pancetta or any other salty filling you can think of. Francesca greases her testi the traditional way with a potato. Cut the potato in half and dip it into a bit of olive oil before swiping the pan with it. I testi can still be bought in many of Northern Tuscany's artisan shops. However being made of cast-iron, they make for a rather bulky souvenir. And just the thought of having to get them through customs!
Francesca Quiriconi
is a Tuscan winemaker at Pratoalpozzo in Cinigano.
Katja Meier
is a Swiss stuck in Southern Tuscany. She blogs at
Tuscany - Map It Out!
Providing updates on current events, concerts, wine & food fairs – basically anything that will sort out that Renaissance hangover.
You might also be interested in