Desserts
Light mousse with figs, almonds, Tuscan salami… and flowers
There are tastes that can remain impressed forever in our memory: textures, combinations and ingredients that surprise the palate and warm the heart. It is incredible how wonderful it actually is to combine sweet figs, crunchy, caramelized almonds and Tuscan salami in a dessert. If you are looking for a romantic feel, we heartily recommend adding some edible flowers to this recipe, as our Chef suggests.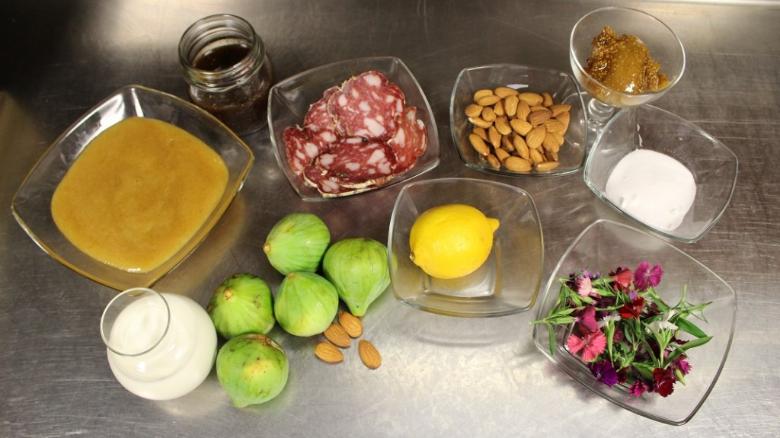 Caramelized almonds
50 g of sugar
100 g of almonds
Sauteed figs
2 figs
half a lemon
teaspoon of sugar
edible flowers
Light mousse (if you have a siphon)
4 slices of Tuscan salami
250 g of fig jam
250 g of fresh cream
Light mousse (if you don't have a siphon)
250 g of jam
170 g of fresh whipped cream
80 g of whipped egg whites (2 egg whites and 40 g of sugar)
Mix the almonds with the sugar and cook over low heat, stirring constantly to avoid burning the almonds.
On a steel or marble table or surface, sprinkle a little butter and reverse the caramelized almonds in order to separate them.
Peel the figs, cut into wedges ...and cook them lightly in a pan with a tablespoon of sugar and the lemon juice.
Take the Tuscan salami slices and wrap them in baking paper, flatten with a rolling pin and bake for 2 minutes in order to dry the slices.
Make the light mousse combining the jam with the fresh cream and put the mix into the siphon.
If you don't have a siphon, first whip the cream and the eggs and then combine everything in this order: first the cream with the jam and finally the egg whites.
Take a glass container (a cube or a simple ice-cream bowl) and assemble the dessert in this order: the figs on the edge, the mousse, the caramelized almonds alternated with edible flowers, the crispy salami.
Enjoy!
Cristian Santandrea is the pastry chef at the Michelin-star restaurant La Tenda Rossa, in Cerbaia (near Florence), a family-run restaurant that dates back to the Seventies. Here there's no head chef, but five chefs who work and create together, from Monday to Saturday.
You might also be interested in