Lampredotto, cecina e molto altro ancora!
Pratico, veloce e conveniente: Street Food made in Toscana
Gli italiani (compresi quelli che abitano in Toscana) amano la buona cucina, non è un segreto. Nella maggior parte delle famiglie vige la rigorosa tradizione del "mangiare a tavola" tutti insieme, pranzo o cena che sia. Un pasto può essere completo (dall'antipasto al dolce) o in versione light (solo un primo o un secondo) ma generalmente si conclude sempre con un caffè. Ma ci sono giorni in cui mettersi a sedere con calma non è possibile. A volte capita di dover correre come trottole da una parte all'altra della città e, allo stesso tempo, dover anche mettere qualcosa sotto i denti per non svenire. Ecco una selezione di cibi veloci e low cost da mangiare per strada: con un'espressione presa in prestito dal vocabolario inglese, lo Street Food.
You might also be interested in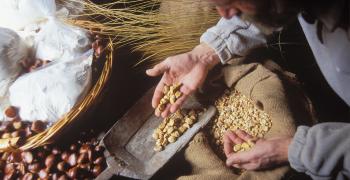 Learn more
Food and Wine
Olive oil, wine, truffle and other culinary delights make up the excellence of Tuscan gastronomy.
continue...