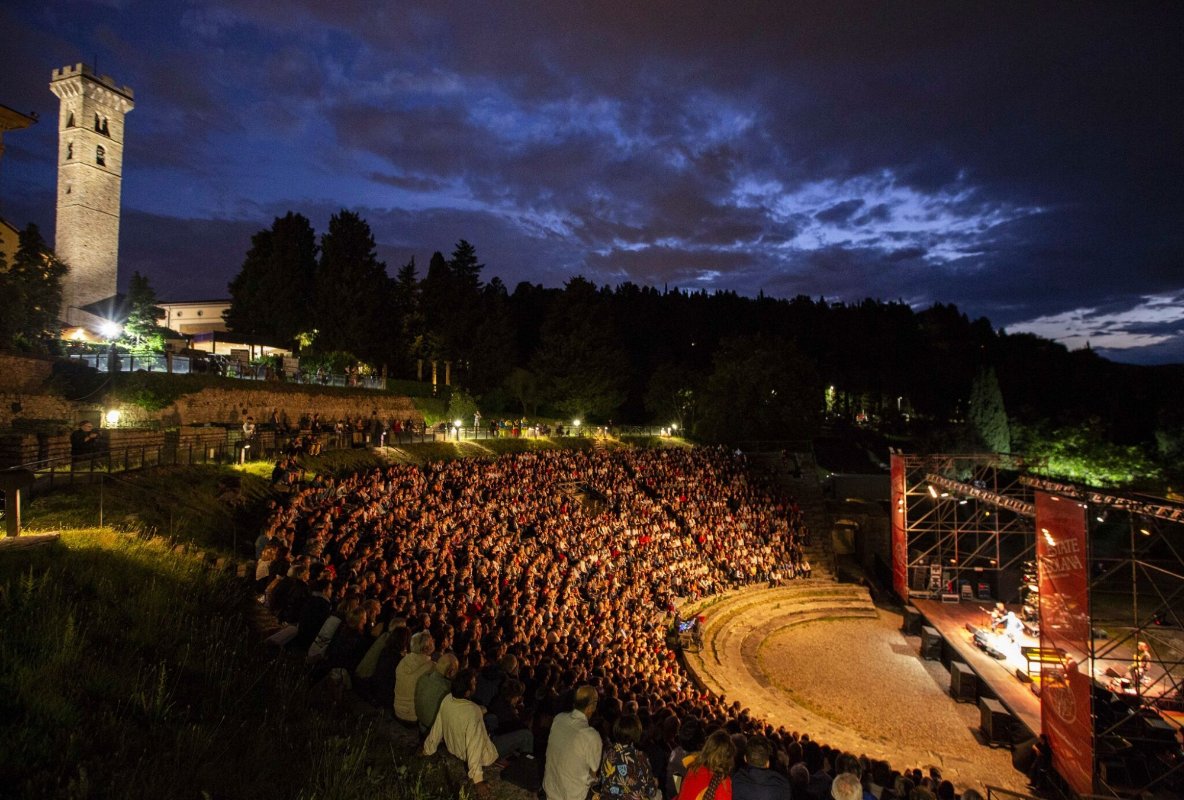 music_noteMusic
Estate Fiesolana
From June 20 to August 18, many events at the Roman Amphitheatre
Levante, Cristina Donà, Ginevra di Marco, Simone Cristicchi, Massimo Ranieri, Cristiano De Andrè, Xavier Rudd, Ludovico Einaudi, Paolo Fresu, Ascanio Celestini, Marco Paolini. These are just a few of the artists who will perform at the 72nd edition of Estate Fiesolana, organized by Prg srl and Associazione Music Pool.
Against the splendid backdrop of the Roman Amphitheatre in Fiesole, many events will be held between June 20 and August 18, 2019, touching the worlds of cinema, music and theatre. Before every performance, ticket holders for the evening's event will have the chance to visit the Archeological Museum in Fiesole for free, home to artefacts from the Villanovan, Etruscan Roman and Lombard civilizations. The museum will be open from 8pm to the start of the show at 9.15pm.
2019 also boasts a special project: everything Thursday, a series of talks will be held about the Aeneid, which include the participation of Nicola Gardini on June 27, Massimo Wertmüller on July 5, Francesco Bianconi of the rock group Baustelle on July 11, Dario Vergassola and David Riondino on July 18, Paolo Rossi on July 25 andMaddalena Crippa on August 1.
The summer program will once again bring back the "History Lessons" and "World Lessons," with the participation of Alessandro Barbero on June 22, Stefano Massini on June 29, Emilio Gentile on July 9 and Federico Rampini on July 13.
The theatre performances planned this year include Ascanio Celestini in Radio Clandestina on June 23, Leonardo. The Musical on July 12, Luca Argentero in È questa la vita che sognavo da bambino? on July 17 and Marco Paolini in Nel tempo degli Dei on July 30.
The Fiesole's Scuola di Musica returns this year with its Concerts at sunset on the terrace of the Roman Amphitheatre; the shows are free. Lastly, the event includes film showings, with a program organized by the Istituto Stensen and running from August 3 – 8.
A special shuttle will be available to bring spectators back down to Florence following the end of each event, which should conclude at around 11-11.30pm.

Program of the 72nd Estate Fiesolana
June 20 Simone Cristicchi
June 21 Fiesole's Orchestra Galilei S. M., Cesare Picco on piano
June 22 History Lesson: Alessandro Barbero
June 23 Ascanio Celestini in Radio Clandestina
June 26 Aiace
June 27 Nicola Gardini, Aeneid
June 28 Ensemble Simphony Orchestra in Omaggio a Morricone
June 29 World Lesson: Stefano Massini
June 30 Alberti Dante Jazz Ensemble
July 1 Massimo Ranieri
July 2 Cristiano De André
July 3 Ginevra Di Marco and Cristina Donà
July 4 Massimo Wertmüller, Aeneid
July 5 The Pilgrims Gospel Choir
July 6 Fiesole and The Conspiracy of Catiline: a different history
July 9 History Lesson: Emilio Gentile
July 11 Francesco Bianconi, Aeneid
July 12 La Macchina del Suono presents Leonardo. Il Musical
July 13 World Lesson: Federico Rampini
July 14 Il cinema dell'anima
July 15 Falstaff o l'educazione del Principe
July 16 Nico Gori Swing 10tet with Drusilla Foer
July 17 Luca Argentero in È questa la vita che sognavo da bambino?
July 18 Dario Vergassola and David Riondino, Aeneid
July 19 Compagnia Amedialuz in Tango y Jazz
July 20 Archaeology Nights
July 21 Il cinema dell'anima
July 23 Ludovico Einaudi
July 24 Alessandro Riccio and the Orchestra della Toscana (ORT) in Ti racconto Don Giovanni
July 25 Paolo Rossi, Aeneid
July 26 Xavier Rudd
July 27 Premio Fiesole for the masters of cinema
July 28 Il cinema dell'anima
July 29 Paolo Fresu and Daniele Di Bonaventura
July 30 Marco Paolini in Nel tempo degli Dei
July 31 Lyric Dance Company
August 1 Maddalena Crippa, Aeneid
August 2 Carmina Burana
When
From 20 June 2019 to 18 August 2019