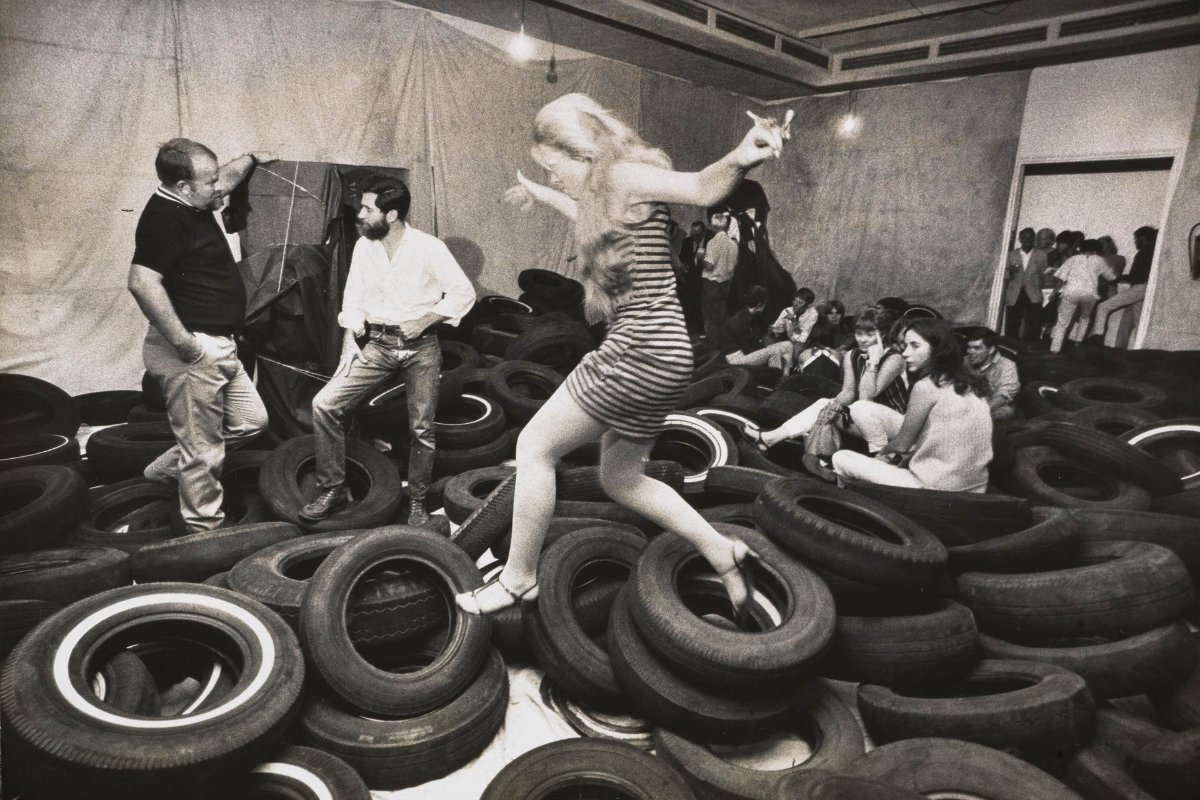 collectionsExhibitions
Allan Kaprow I will always be a painter – of sorts
From 20 February to 4 June: 40 artworks in Florence, along with four reinventions of two iconic performances
The Museo Novecento in Florence hosts a large exhibition dedicated to the multifaceted and indefatigable Allan Kaprow, creator of Environments and Happenings. During the course of his intense career he has used a wide variety of mediums. The exhibition, ALLAN KAPROW I will always be a painter - of sorts, curated by Sergio Risaliti and Barry Rosen, is open to the public from February 20 until June 4, 2020 with a corpus of about forty works on paper and canvas premiering in Italy.
Allan Kaprow - also highly active as a theorist - has influenced generations of artists, promoting his idea of ​​art that is at the same time conceptual and spontaneous, utopian and provocative, political and ironic. Strongly influenced by Jackson Pollock's Action Painting, between the end of the fifties and the beginning of the sixties he abandoned the most classic means of expression and began to create interactive and ephemeral environments and actions that questioned the idea of ​​a monumental art always equal to itself and unchanging in time. In line with the typical crossover of those years between performance, theater, dance and visual arts, his works promote an ever greater integration between spaces, materials, time and people.
In order to reconstruct the artist's creative path, the Museo Novecento delineates a path backwards within his research, opening up with the reinvention of two emblematic works - FLUIDS (1967) on the ground floor created by the artists Davide D'Amelio, Anna Dormio, Bekhbaatar Enkthur, Esma Ilter, Giulia Poppi, Negar Sh, currently in residence at the Manifattura Tabacchi, and WORDS (1962) on the first floor designed by Dania Menafra, which deals with the creation of desire and consent in a digitally dominated society, filled with emotional marketing. Through intense graphic and editorial production, the videos and events of the seventies (displayed in the Cinema room), end with drawings and paintings.
In the last rooms a corpus of about forty works (20 paintings and 19 drawings), exhibited for the first time in Italy, shed light on the performative implications of these early works on paper and canvas. Thanks to the experience of Action Painting, Kaprow understood how a painting could involve the viewer to the point of giving the impression of abandoning the wall and entering real space. These works lay the foundations for a new conception of a work of art that opens up to a radical mix of art and life, art and urban space, art and theater.
On the occasion of the exhibition, the artists Jacopo Miliani and Elena Mazzi have been invited to design two further reinventions of FLUIDS which will take place outside the Museum respectively on April 4 in some squares in the historic center and on May 1 at the Manifattura Tabacchi.
When
From 20 Feb 2020
to 04 Jun 2020
Details
From 20 February 2020 to 04 June 2020