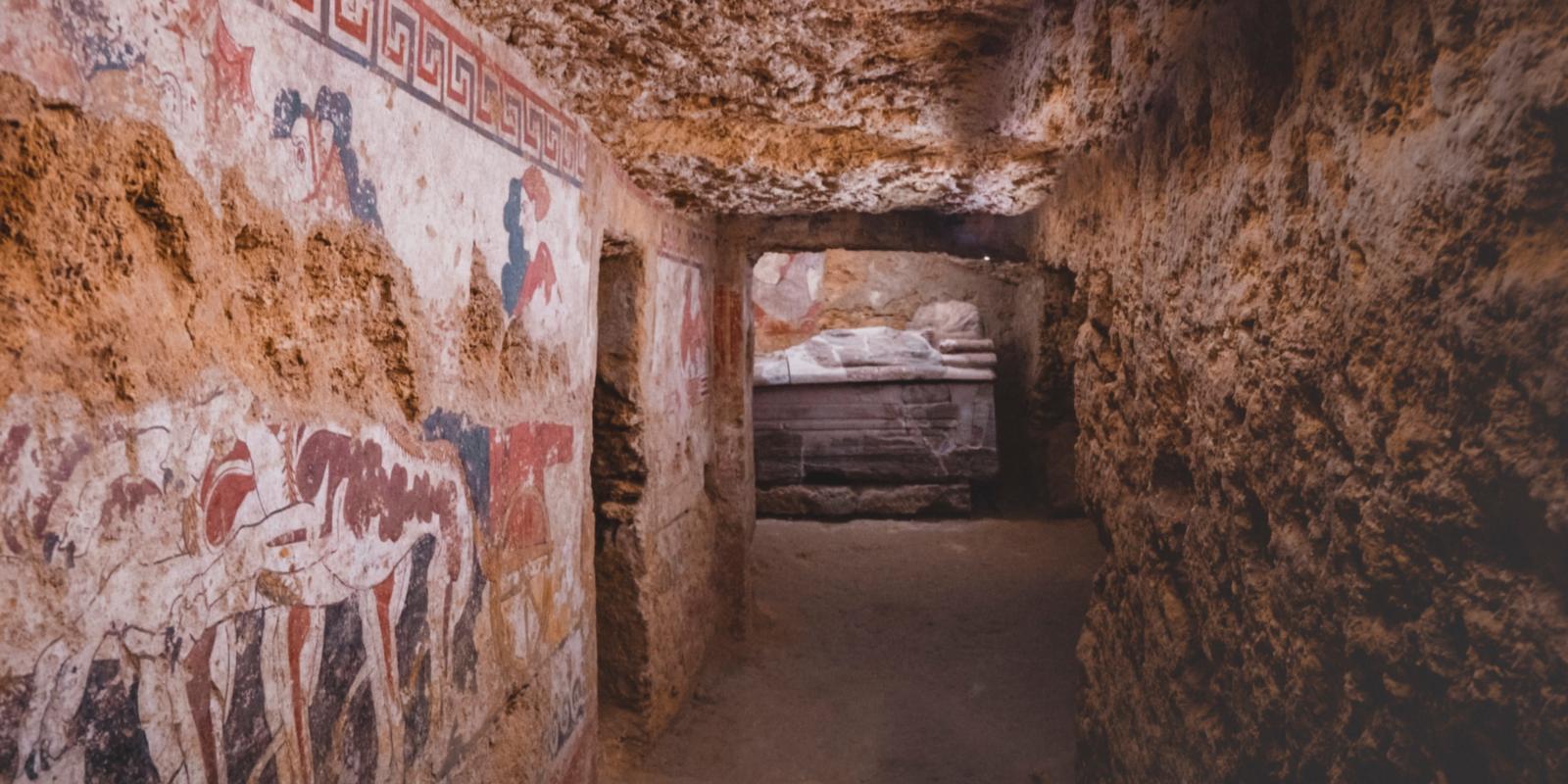 This deal has expired
redeemHoliday packages
info
Important information:
The deals are subject to extraordinary measures adopted by the Italian Government to contain the Covid-19 epidemic. Please contact the operator for more information. For further information on the situation in Tuscany Stay updated
here
Three days in the homeland of the Etruscans
In the Valdichiana Senese on the traces of the Etruscan civilization: among Montepulciano, Chiusi and Sarteano
We will guide you on an epic journey through the history of one of the oldest civilizations in Central Italy since the 7th century BC: the Etruscans.
Etruscan civilization had a profound influence on Roman civilization, later merging with it at the end of the 1st century BC. This long process of cultural assimilation began with the conquest of the Etruscan city of Veio by the Romans in 396 BC and ended in 27 BC, the first year of Octavian's principality, with the award of the title of Augustus.
Prices:
Adults: full price;

Children aged 3 to 12: 50% discount;

Children under 3 years old: free.
NOTES:
Minimum of 8 participants maximum 16.

When
From 21 January 2020 to 31 December 2020
Prices include
Stay: 2 nights in hotel half board;
Tour of the towns (Montepulciano, Chianciano Terme, Chiusi and Sarteano) with guide English speaking;
Tickets: Entry to Civic Museum – Underground City in Chiusi; Entry to Etruscan Museum in Chianciano Terme; Entry to Castle of Sarteano; Entry to Civic Museum in Sarteano (or Tomba della Quadriga Infernale only on Saturday);

Supplemental charges
Transfer service;
Tourist tax, payable at check-out;

Single room surcharge: € 100;

Transport service, available on request.
Plan
DAY 1
Arrival and accommodation in hotel;
Guided tour to the Chianciano Terme Etruscan Museum, where the Etruscan civilization lives again in thematic sections, which illustrate all aspects of life and death of the Etruscan people. The museum host the most important collection of Etruscan canopi in Italy.
DAY 2
Guided tour to the medieval castle in the historic center of Sarteano.
Visit to the Sarteano Archaeological Civic Museum, which displays the treasures found in the nearby necropolis and a perfect 1.1-scale reconstruction of the Tomb of the Infernal Quadriga. (Only on Saturdays, as an alternative to visiting the Sarteano Museum, it is possible to visit the real Tomb of the 4th century BC, whose colors are incredibly well preserved).
Transfer to Chiusi, the Etruscan city of the Valdichiana Senese, for a guided visit to the Civic Museum - Chiusi underground city, 120 m underground galleries which host the only exhibition in Italy entirely dedicated to the Etruscan funerary epigraphy.
DAY 3
Check-out.
Guided tour of Montepulciano and visit of an underground cellar in the historical city center.
Free time in Montepulciano for shopping in the artisan shops.

Cancellation and no-show policies
100% refunded up to 15 days before arrival. 50% refunded from 14 days to 7 days before arrival. No refund for later cancellations.
Read the cancellation policies
Organization
Valdichiana Living
P.IVA: 00995040524
Piazza Grande, 7
Montepulciano