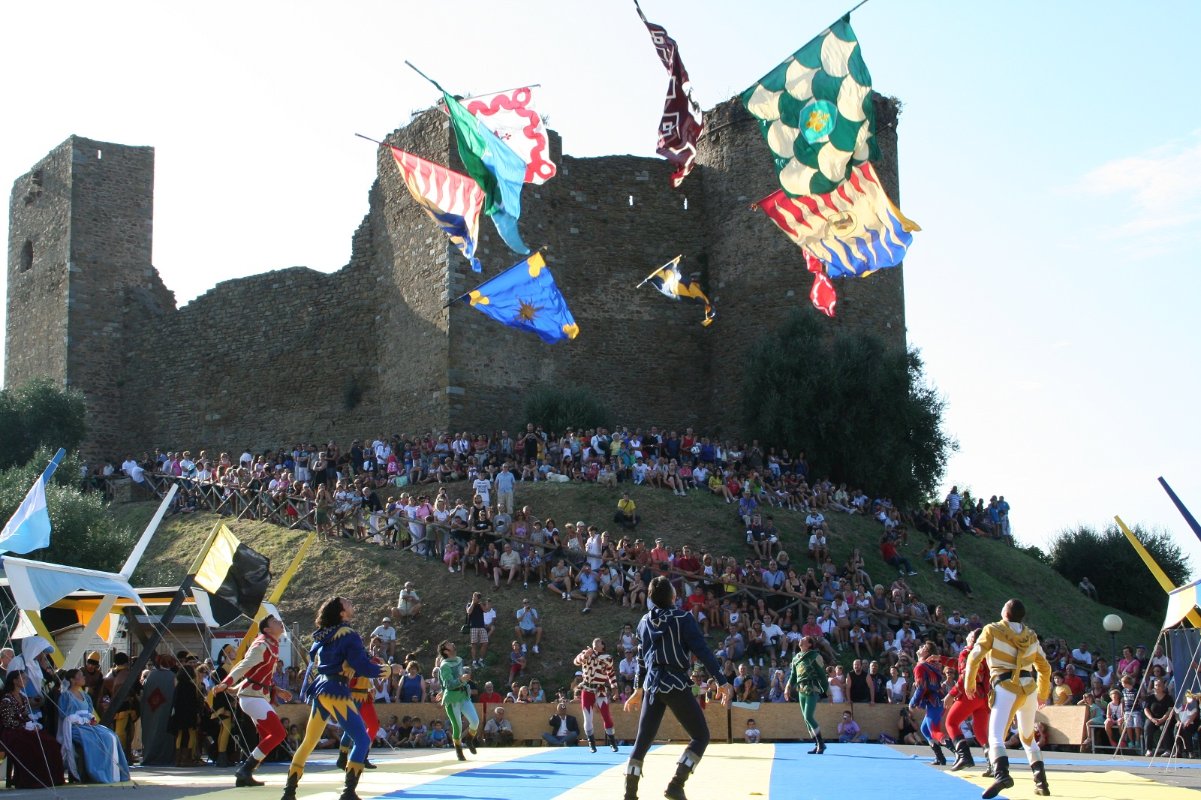 The festival of Carriere di Scarlino animates the town of Scarlino during the day on August 19, commemorating a miraculous event. In the distant year of 1855, as a terrible cholera epidemic reached Scarlino, along with the rest of the Maremma region, anxiety and fear began rippling through the population. The idea came about to launch a parade to boost morale, and to pray together that the winds of death would cease as soon as possible. Rather quickly, fortunately, the number of ill people began to decrease; in their pleas for a miracle, the population didn't lose that many.
Given the favorable outcome of the procession, the townspeople decided to turn it into an annual event, one that continues even today (although with more of a folkloric touch). All of Scarlino gathers together for this deeply beloved event. The entire village takes a step back in time with accessories and elements that point toward the past and the three Contrade (historic neighborhoods) of the center, San Donato and Rocca actively participate in challenges and tournaments.
The first afternoon procession kicks off the festivities: a group of women, noblemen and knights move toward the archers' challenge, where they'll be wowed by the antics of the various Contrade. Next up comes the event that lends the day its name: the races, known as the Carriere, feature various costumed figures battle it out for a trophy, running through the small town streets to earn the prize. Another curious battle (which takes place without weapons—unless you count words as such), is the folk theatre competition, during which each Contrada puts its best foot forward with an open-air performance. A beautiful show comes out of this: everyone is an actor and spectator at the same time, and by the end, they all understand that the festival is all about joy and sharing at its core.
Organization
Comune di Scarlino
Tel. 0566 866288
Ufficio del turismo
people
What's the buzz about?
Scarlino
ENCHANTING BAYS DRAPED IN RICH MEDITERRANEAN SCRUB
The name Scarlino comes from the Gothic word "scherlin," meaning "torch-light procession," and points to the role played by the town's lighthouse in the Roman port of Scabris (today's Puntone port.) Recent archeological digs in the Puntone area unearthed an important Etruscan necropolis and burial mound, signs of early settlements dating back to the 6th and 7th centuries BCE. ...
Morekeyboard_backspace