Leonardo da Vinci and his passion for archaeology
In the footsteps of genius
Born in Vinci, land of the Etruscans, Leonardo was an impassioned learner about all things to do with Tuscan archaeology. His masterworks often contain references to antiquity. For example, in the Battle of Anghiari, the Genius' "unlucky" painting, which was left incomplete and destroyed to make room for Vasari's decorations, there were depictions that resembled Roman sarcophagi. Leonardo was very fascinated by the past and adopted ancient models in architecture as well.
Val di Chiana (both its Sienese and Arezzo sections), Prato, the Florentine hills, the Chianti area, the Terre di Siena and the Maremma are just a few of the regions that, through their vast patrimony, inspired the greatest scientist of all time.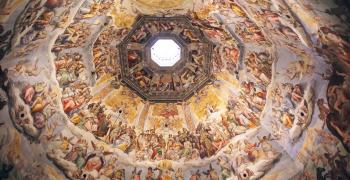 Learn more
Art and Culture
Tuscany is the cradle of the Renaissance and known all over the world for its immense artistic and cultural heritage.
continue...