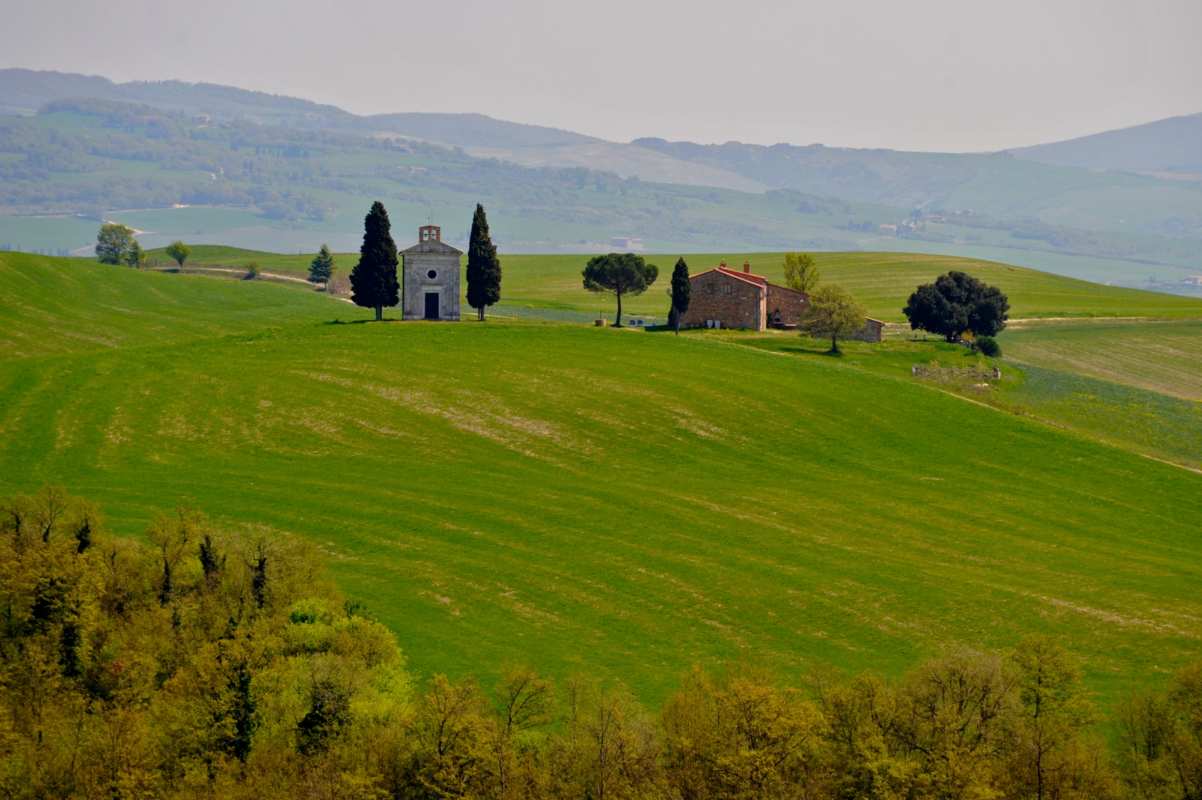 Four days in Tuscany: Chianti senese and Val d'Orcia
Experience Tuscany at its best in four full days
This year my husband and I had the brilliant idea of leaving for Italy early in the season, before Easter. We added some other key elements to the plan that made for a memorable trip: we left our teenage boys at home and we put Tuscany on the itinerary.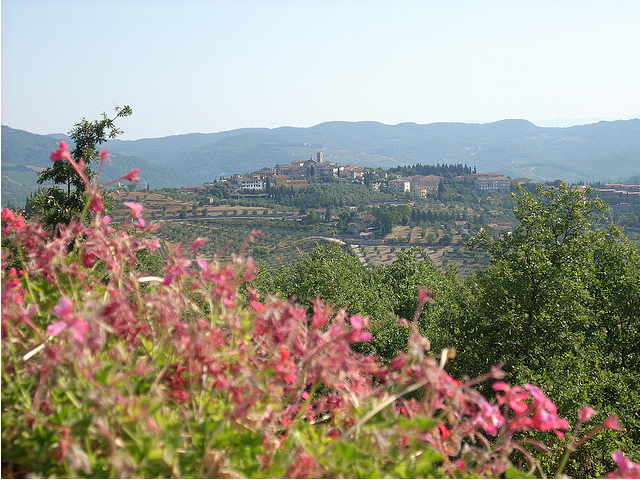 We had four full days for Tuscany, the luxury of staying at a friend's casa (house) in the vineyards north of Radda, and the added luxury of our own car to get around. We left Como at 10:30 a.m. on a Monday morning and by mid-afternoon were ascending the hills in our approach to the walled city of Monteriggioni, the first stop on our journey. Now home to the 79-year-old parents of friends of mine, Monteriggioni is a delightful if quiet village, perfect for a retirement couple. According to our friends, the population has dwindled to 40 from 80 since they moved to Tuscany ten years ago – a sign of the sinking birth rate in Italy.

Avoid Big Cities
On the advice of our friends, we planned our day trips with Radda as our base. Our itinerary included many small towns, deliberately giving Florence a wide berth. We left the GPS in the glove compartment and I got behind the wheel of the car while my husband decided on our route, often taking us down unpaved dirt back roads through the Chianti countryside. The weather was dry and warm at this time of year; be advised that these roads can turn to slush after heavy rains.
Day 1 – San Gimignano and Volterra
Day 2 – Siena. Today's highlight: A personal tour of the synagogue.
Day 3 – Valdorcia: Montalcino, Abbey at San' Antimo, San Quirico d'Orcia, Pienza, Monticchiello. Today's highlight: Reaching the exquisite roman Abbey at Sant'Antimo: the abbey is unadorned and carved in local stone. With its cool, dark interior, redolent of incense, the abbey contrasts greatly to the indulgent decorative basilica in Siena or other towns. When we arrived, we were alone in the abbey – a magical feeling.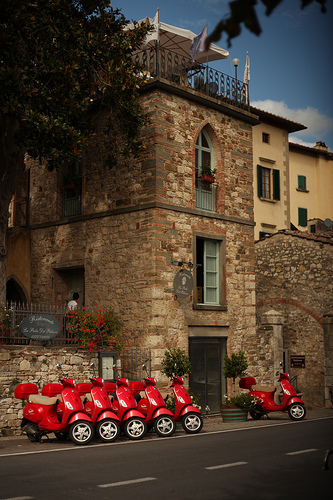 Day 4 – Chianti: the Castle of Montegrossi and the abbey of Coltibuono, Gaiole in Chianti, Meleto castle, Vagliagli, Castellina in Chianti. Today's highlight: A precious 18th century theatre at the Castello di Meleto, complete with a tiny balcony and original painted linen wings. The castle of Meleto is situated high in the hills of Chianti and offers guided tours, wine tastings as well as rooms for guests. Ask whether any weddings are planned before booking!
On our final day in Tuscany, a Friday, we got up early and were on the road by 5:30 A.M. I instructed the GPS to take us home and it indicated that we would be there in nine hours. We floored it home to our kids and were home in time for tea. With Tuscany just a day's drive from home, we'll be back again soon ;)
Thanks to Angela Dunn (@angeladunn) for her nice guest post about her experience in Tuscany!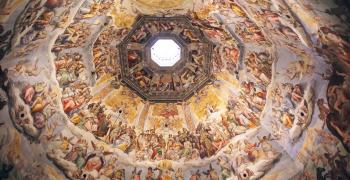 Learn more
Art and Culture
Tuscany is the cradle of the Renaissance and known all over the world for its immense artistic and cultural heritage.
continue...